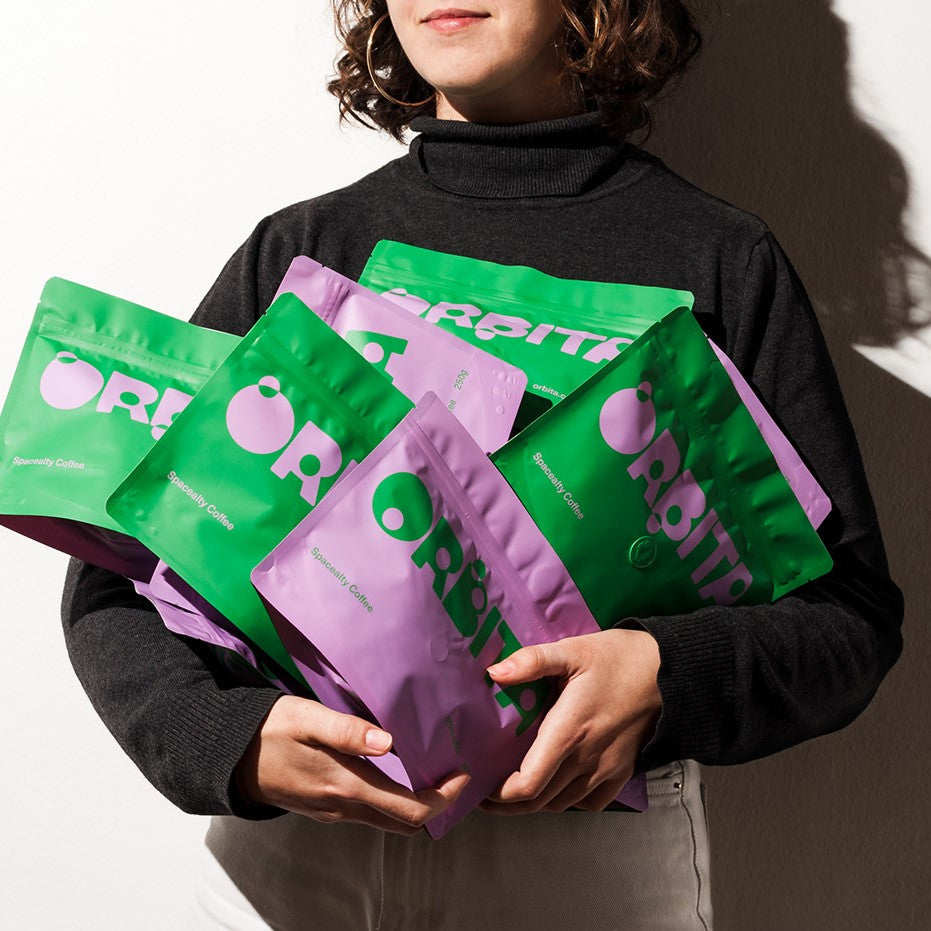 As anyone in the coffee industry will tell you, design is crucial in packaging. Consumers are becoming increasingly discerning about the brands they purchase, and well-designed coffee labels or logos can be the difference between a sale and a pass-by.
Coffee is one of the most popular drinks in the world, enjoyed by millions of people every day. A good cup of coffee results from careful planning and execution, from sourcing the beans to roasting them to perfection. But even the best coffee beans can be let down by poor branding and design.
With so many coffee brands on the market, it's more important than ever to make your brand stand out. There are many different elements to consider when designing coffee label branding, from the logo and color scheme to the overall aesthetic of the packaging. That's why we've put together a list of coffee branding ideas to help you create a distinctive and eye-catching design for your coffee labels, cups, and packaging.
This article will look at some of the best coffee brand designs worldwide and explore what makes them so successful. Hopefully, this will inspire you with your best coffee packaging designs.
Why Are the Identity and Design of the Coffee Brand So Crucial?
The coffee brand is a customer's first impression, and it's essential to make a positive one. From the logo and packaging design to how coffee is sold, customers are exposed to coffee brands at every turn.
The coffee brand identity and design can be an effective way to communicate with consumers who are looking for new ways to enjoy their favorite beverage. It helps customers recognize your brand as a source of quality and presenting yourself as a company helps set you apart from competitors in your industry. Your employees should be trained on how their images and personalities should look when representing your company. Hence, they can ensure it looks professional when they're publicly representing your brand offline, online, and on social media.
It can help increase sales by making customers feel comfortable buying from you. Customers will think twice about buying from brands that don't have solid identities or designs that don't match up with what they see online or hear about in commercials.
Coffee brand designs are a great way to build loyalty among customers who have already purchased from your company, and they can help highlight the quality of your coffee and promote the brand theme and mission. A good design should be simple but effective, with an eye for detail and clean lines, and it helps create an image that stands out and attracts attention.
21 Brands of Coffee Roastery with Amazing Packaging Designs
1. KEW 3101
The KEW 3101 coffee roastery brand focuses on simple coffee brewing methods to produce the best taste with simplicity. As they gather Coffee from distant regions, the delivery process is lengthy, so they try to keep local flavors to give customers a traditional taste. After a long wait, they surprise consumers with their Coffee's flavors and tastes.
The KEW 3101 course focuses heavily on creative thinking. LHCK 乐享澄果 is one of the designers of KEW coffee packaging from China. Many coffee package designs are based on flavors and origins, focusing on letters.
2. Otherside 
Otherside is a coffee roaster brand along with their cafe. The brand's theme is to give people a colorful, vibrant, and joyous experience while they enjoy their Coffee. They aim to provide their customers with a great and delicious taste of Coffee. In addition to taste, rituals are important to them regarding quick Coffee. It's an Australian coffee roastery brand based in Melbourne.
Melbourne-based Pop & Pac Studio contributes to Otherside's innovative design, great graphics, and creative plans. Their design features a variety of beautiful colors and a versatile letter craving in Otherside's packaging design. They don't just focus on visual or verbal design but also dig into the brand's unique identity and story to create the right design. 
3. Zest Specialty Coffee
Zest Specialty Coffee is a coffee roastery brand based in Melbourne, Australia. The company has been in business since 2009 and has grown significantly since its inception. The focus is on roasting Coffee that's delicious and perfectly balanced for all levels of coffee lovers. Coffee quality is of the utmost importance to them.
In certain regions of Australia, Zest's sales demonstrated their obvious power. By making Zest more marketable to compete in inner-city cafes, they wanted to stay true to their identity without alienating their existing customers.
Zest coffee packaging designer Pop & Pac Studio specializes in creating multidisciplinary artwork for products. This Melbourne-based designer company provides a wide range of product design services. 
4. Coffefox
Coffeefox is a Siberian company that specializes in coffee roasting and production. The company is based in Tyumen, Russia. Creating unique and creative packages is one of the main focuses of this company, which produces unique and balanced coffee tastes from different regions.
Liteshop designer studio created Coffeefox's attractive and standard personalized logo with a wild illustration that identifies the brand name 'fox.' 
5. Orbe
Orbe is a brand that roasts high-quality Coffee with standard and vibrant flavors. The company aims to provide its customers with Coffee's luxury and exclusive experience. Besides producing attractive-looking packages to reach quality consumers, their target audience is between 27 and 50 years of age.
Zantana Design Studio illustrated the coffee packaging of Orbe's with several packaging designs. Zantana is a Brazilian design company. The design of Orbe focuses on strong, bold typography. With a modern and unique design matching the brand's visual identity, the packaging offers you a vibrant flavor coffee experience with the utmost customer satisfaction.
6. Take Me To The Mountain
Take Me To The Mountain is a coffee collection by Cama Coffee Roasters. Providing simple and natural Coffee is the idea behind this Taiwanese brand. The brand makes Coffee from three selected coffee variants produced on mountains. As Taiwan has such a beautiful geographical environment, they plan to promote outdoor activities through Coffee.
Liung-Hao Chiang designed the branded packaging based on Taiwanese design. Taiwanese mountaineering and camping activities inspired the design. The package design of three flavored Coffee is similar to tents focused on campaigning. 
7. A Cup Of Coffee
A Cup Of Coffee is a coffee roastery brand based in Singapore. This brand emphasizes innovative coffee packaging or label-making concept that supports brand identity. The company wants to create the coffee brand outline with a subtle mathematical concept. 
Kai Tong Young designed this coffee roastery brand's packaging design, a great example of visual language with detailed information. Its design concept uses formulas, ratios, and bar graphs to depict data and develop a distinctive visual language.
8. Ultimate Drip 
Ultimate Drip is a coffee roastery brand that offers great Coffee. Their drip bag comes in Nut&Chocolate and Floral&Fruity flavors. 
A Shanghai-based Chinese design studio, Low Key Design, made it possible to create a design with great style. The brand identity of Ultimate Drip is promoted through the use of different colors in the logo. The designers got their inspiration from the coffee brand's motto, "Coffee is gorgeous; we'd love to share it.". 
Based on the concept "We want to share the colorful aspect of coffee," they used different color schemes to match the coffee flavors."
9. 白NONE - Cafe Brand
白NONE is a coffee roastery brand and operates its cafe in Huainian Fourth Middle School in China. There is a concept behind this coffee brand which consists of a road being able to create separation between people based on their feelings, time, and taste.
The talented graphic designers behind 白NONE-Cafe Brand coffee brand packaging are Jason Zheng and SOSOStudio from Shenzen, China. Many of their products, like packaging, bags, paper cups, and shirts, reflected their aesthetic and attractive designs.
10. AOKKA 
Coffee roastery brand Aokka offers an exciting taste with its Coffee to increase customer satisfaction. It's a Chinese company, and 'Coffee for Rawmance' is their quote with a unique concentration that symbolizes freedom, adventure, and wilderness. Aokka's founder, the Robin, came up with the idea of facing an unknown and unique taste.
Located in Shanghai, Low Key Design studio designed Aokka's packaging in Green and fluorescent Yellow. The Green color is a symbol of wilderness, which was a unique idea that went into designing the logo. In contrast, Aokk's label uses Yellow and Blue as secondary colors. 
11. With Innocent Hand 
A commitment to serving high-quality Coffee is the foundation of this coffee roastery brand. An ingenious group of coffee enthusiasts founded Innocent Hand, a brand of coffee roasteries in China. They claim that an art thief inspires their coffee packaging and labeling design.
The Persons Design Studio is the creator of this company's overall coffee cup and pack design. The design of 'With Innocent Hand' includes red, black, and white colors. White color symbolizes nobility, black is a sign of guilt, and red expresses fanaticism and simplicity. This design studio tends to create meaningful designs with stories of any brand. 
12. BountyBrew
BountyBrew is an instant coffee roastery brand with an innovative passion for coffee lovers. The company is focused on its visual identity to express more about its product to the customers. BountyBrew, based in Trenggalek, Indonesia, produces high-quality coffee products to sustain the industry. With a different and unique taste, they want to serve their customers.
Their packaging design is made by Widarto Impact graphic designing firm. BountyBrew chooses Franklin Gothic URW as their Wordmark, a simple, solid, and dynamic typeface. The design of BountyBrew's coffee package is full of fun, positivity, and colors, which will get you excited about BountyBrew's coffee taste and design.
13. Velto Coffee
The Velto coffee roastery brand produces naturally roasted and ground Coffee from Argentina. The taste of their Coffee is simple and fresh, without any additives. While thinking about coffee fans, Veltp Coffee maintains the best quality taste. With fun and caring tone, Velto Coffee's brand identity emphasizes serving a warm, cozy, familiar vibe to close friends and family.
The Argentine FUA Design Studio makes Velto's coffee packaging design. The design features a variety of coffee-type designs with a creative flair.
14. Mr. Odd
Mr. Odd is a coffee shop with a unique name that roasts its Coffee. It serves a variety of flavors and textures of Coffee of excellent quality and taste. Many people come here to relax, browse their notebooks, and enjoy the amazing taste of the Coffee.
Zantana Design Studio is the brand packaging designer of Mr. Odd based in Brazil. Zantana focuses on the brand identity with the creativity of any product. One of the characters in Mr. Odd's coffee cups is a bunny, and the color combination focuses on baby pink and navy blue.
15. Orbita
Orbita is a Spanish coffee roastery brand that started its journey with competitive pressure. They focus on a strong, flavored product roasted with deep concentration. With authentic quality, Orbita coffee beans are collected from some of the best coffee farms in the world. The brand name has a symbolic meaning with abstract, interaction-based value to connect customers.
In Barcelona, Spain, Requena Office is a visual communication-focused graphics studio for Orbita's coffee packaging. The studio specializes in creating beautiful and innovative designs for package printing. Orbita's vibrant color-focused design is full of fun and joy.
16. Habit
Founded by talented professionals, Habit is a bright, ambitious Coffee rotary brand. Their dream is to make people feel positive and energetic by serving Coffee with emotions rather than just skill. A logical connection between the brand's name and its philosophy - freedom, and emotion - inspired its design.
F61 agency from Saint Petersburg, Russia, is the design maker of this brand's packaging layout. In the design, the brand name is centered and lettered in a large font with an ironic tone. 
17. Mineral Cafe
The Mineral Cafe is homemade food, coffee roastery, and beverage store that promotes healthy eating habits. Located in Jakarta, Indonesia, the cafe serves organic Coffee, milk tea, and other drinks. The idea of nature inspires the cafe with an authentic and organic experience.
Studio Woork from Jakarta got the responsibility to develop Mineral Cafe's logo and brand packaging. With a natural aesthetic and organic approach, Mineral Cafe's brand design gives customers a casual feeling. The brief was to create a logo representing the cafe's strong image which can express visual communication to the customers.  
18. Plouf Coffee
Plouf Coffee is a South-Korean coffee roastery brand in Yeonnam-dong, Soul. The shop sells a variety of drinks like coffee, wine, and various beverage items. The coffee shop also offers a variety of bakery items such as meringue cookies, cakes, scones, and other baking items inspired by a British bakery. The bakery items are so popular in Seoul for their high-quality food.
Studio LEM designed the visuals for the Plouf Coffee brand to focus on brand identity. Catherin Potvin developed a character outline to create the brand visually, and Simon Langlois created a logo idea. A blue and ivory color scheme is the main color scheme for the brand.
19. Heaped Coffee
Heaped Coffee is a coffee roastery brand located in the United Kingdom. The company's great coffee will make you feel fresh and energetic throughout the day. You will find some of the best flavors of coffee there that will give you a unique taste. Their specialty is mini parcels or coffee bags, which are available with different flavors and allow instant coffee preparation.
Lyon & Lyon is the designer of Heaped Coffee packages. The studio is located in Sheffield. Branding, motion, and packaging design are the focus of the studio. 
20. Letter Coffee
Letter Coffee is a quality coffee roastery brand that provides its customers with a wide variety of coffee. Located in China, the company's name reflects the unique taste of its products. They preserve their coffee's variegated flavors and tastes using different roasting temperatures and times.
Design studio Zhangtao in Shanghai was responsible for the design of Letter Coffee's branding and packets. Creativity and visual communication are the guiding principles of their design. Letter Coffee's packaging contains different styles of single letters that symbolize the characteristics of different flavors due to differences in roasting temperature.
21. Spark Coffee
The Spark Coffee roastery brand is located in a natural setting beside Xingmeng road, adjacent to Bailu lake. The coffee roastery brand is quite popular among people in the region. The quality of coffee, service and the amazing brand identity make the coffeehouse one of the best in the Jiangning district.
Zhangtao is Spark Coffee's branding designer from Shanghai. The main logo design draws inspiration from the natural environment to provide a refreshing, eye-catching, and culturally appropriate design. Symbolizing their brand logo, drippy coffee resembles an exclamation point in their packaging.
Differences of Sachet Coffee, Instant Coffee, and Coffee Beans
Coffee is a popular drink, and it's been used for centuries. The history of coffee dates back to the 17th century when the first coffeehouse opened in Amsterdam. Coffee was first cultivated in Ethiopia in the 15th century and then spread to Brazil, Columbia, Yemen, America, and other countries. It became more popular after Portuguese explorer Vasco de Gama discovered the bean on a trip to Africa.
Today, coffee is one of the most consumed beverages worldwide. People often purchase different types of coffee bean products, including sachet coffee, instant coffee, and coffee beans.
Sachet coffee:
Sachet coffee is a type of coffee that is sold in small, single-serve packets. This type of coffee is often instant, which means that it can be made quickly and easily by adding hot water. Sachet coffee is becoming increasingly popular as it is a convenient way to enjoy a cup without making a larger coffee pot.
Instant coffee:
Instant coffee is made by freeze-drying or spray-drying brewed coffee. This process removes most of the water from the coffee, leaving a concentrated powder that can be reconstituted with water. Instant coffee is convenient and easy to make, but it often lacks the flavor and aroma of fresh-brewed coffee.
Coffee beans:
Coffee beans are the seeds of the coffee plant, and they are typically roasted before being ground and brewed to make coffee. Coffee beans can be brewed in various ways, from traditional drip brewing to espresso. The type of brewing method used will affect the flavor of the coffee.
Why Do Some Brands Sell Coffee That Has Already Been Ground? Is Newly Ground Preferable?
Some companies sell coffee that has already been ground, while others only sell coffee beans. There are a few reasons why companies may choose to sell coffee that has already been ground, and one reason is that it is more convenient for consumers. Ground coffee is ready to be brewed, so consumers can save time by not having to grind the beans themselves.
Another reason some companies sell coffee that has already been ground is that it can be more affordable. Ground coffee beans have a shorter shelf life than whole beans so companies can sell them at a lower price. Additionally, pre-ground coffee may be less expensive to produce than on-site ground coffee.
Freshly ground coffee gives your beverage a unique taste that you won't get from the other options out there. If you're looking for something different from your usual cup of joe, then freshly grounded coffee might be what you want.
Newly ground coffee beans will have lower acidity than old-fashioned roast-style coffee beans, which can create a more mellow flavor profile. A freshly ground coffee brew has less bitterness and more sweetness than an old-fashioned roast-style brew because it doesn't have as much caffeine after roasting.
There are a few things to remember when deciding whether to buy pre-ground or whole bean coffee.

Grinding your beans is more expensive than buying pre-ground. However, it also allows you to control the quality of your coffee and experiment with different grinds and blends.

Buying whole beans means you need a grinder (or particular machine) to get them ground up into small pieces. It can be costly and inconvenient if you want to use them for multiple cups of coffee on the same day.

Whole bean coffee often has a higher caffeine content than pre-ground coffees, which may make it easier for some people to drink more than one cup in one sitting without feeling jittery or anxious.
So what's the solution? Buy pre-ground coffee if you don't want to wait too long for your morning cup of joe! Pre-ground coffee has already been roasted and ground at some point during its creation, so it will be ready for use immediately after brewing.
What Is the Startup Cost of a Coffee Roastery? A List of Expenses to Make Both With and Without Owning a Cafe
Starting a typical brick-and-mortar coffee business might cost anywhere between $25,000 and $300,000 in the US. On the other hand, creating small coffee shops like espresso stands and mobile coffee carts typically costs between $16,000 and $25,000.
The prices typically fall into six categories:
Business Formation

Location and Build out

Equipment

Hiring

Licensing, Permits, and Insurance

Taxes
Business Formation:
The business formation process is one of the most critical steps in starting a coffee brand. The location must be strategic and accessible to customers, but it must also be within a market that will support your brand. The build-out part of the process involves choosing a location for your shop and designing an interior for it.
Location and Build out
Rent: Rent on high-end retail spaces can range from $50 per square foot to over $100 per square foot for prime locations. But it should not exceed 15 % of your annual sales. The space size depends on how much inventory you need and whether you want to run a cafe or sell more than just coffee.

Design and layout: A coffee brand design includes any elements that are necessary for your store to function, such as layout, seating arrangements, lighting schemes, etc. it may cost $6000 to $10,000

Signage: Outdoor advertising, crucial for drawing clients to your establishment, often costs $1,000 or less.

Furniture: Tables and chairs for indoor use usually cost about $1,000. The same holds if your cafe has outdoor furniture.

Other items: Together with installation fees, the price of a music system and a mop sink is roughly $400. The cost to install a dishwasher or sanitizer is approximately $700.
Equipment :
It is another essential aspect of starting a coffee brand. You will need all sorts of brewing equipment, from grinders to steam machines and everything in between. You can purchase these items individually or get them as a package deal.

Coffee: it may cost round about $1000

Milk: the budget estimate for milk is $45

Water Filtration System: Budget $650 to $800 for a water filtration system that fulfills your cafe's needs.

Espresso Machine: $10,000 t0 $20,000 for high quality expresso machine

Drip Coffee Maker, Airports, and Filters: Spend no more than $1,500 for a complete drip coffee setup with filters, at least two airports, and a high-quality coffee maker.

Refrigerators: $1000 for a refrigerator is expected.

Espresso Grinders: they may range from about $1400 to 3200 but may also depend on the brand of

Drip Coffee Grinder: the budget for a good grinder is $1000. the price also varies by brand.

Pitcher Rinser: Although it is an optional purchase, it can be beneficial during busy periods. Spend no more than $320 for a typical pitcher rinser.

Espresso Machine Cleaner and Tools: we have to pay around $55 for Espresso machine cleaners and tools.
Hiring staff:
It is often the last step before you can open your store for business. Once you have hired them, they'll need time to train on their job functions before they can start making drinks for customers at your shop. The annual salary for staff members is around $50,000.
Licensing, permits, and insurance:
You'll want to take care of these things before opening up shop. These all come with rules, varying depending on where you live and what kind of business you're planning to run. The licensing cost may vary between $25 to $ 7000.
How Do Coffee Roasters Recoup Their Costs?
Coffee roasting is a complex and expensive process. High-quality coffee beans must be carefully selected, roasted to perfection, and then packaged and shipped to customers. All of this costs money, and it can be difficult for a coffee roaster to make a profit.
So how do coffee roasters recoup their costs? Many charges a premium for their coffee, which helps to offset the cost of the roasting process. Others sell coffee equipment or offer coffee roasting services, which can be profitable. And some coffee roasters focus on efficiency and scale, which allows them to keep their costs low and their prices competitive.
To recoup their costs, many coffee roasters have several ways they can make money from their product. They may sell their beans through direct sales or wholesale accounts, or they may sell them at retail stores. Coffee companies also have partnerships with hotels and restaurants that feature their products in-house or at their tables. It can be a great way to increase brand awareness and grow your customer base for years to come.
Coffee roasters recoup their costs by selling coffee beans to shops and other distributors. They collect from the coffee shop as part of their monthly payments, ranging from $15 to $75 per pound for high-quality coffees. Coffee roasters also sell their products directly to consumers for a commission.
In the end, there is no one-size-fits-all answer to this question. Coffee roasters must find the pricing and business model that works best for them.
Examples of Well-Designed Coffee Brands:
Many coffee brands are out there, but not all are well-designed. A well-designed coffee brand considers everything from the logo to the packaging and website design. Everything should work together to create a cohesive brand that represents the company in the best way possible.
To help you get inspired, we've put together a list of some of the best-designed coffee brands out there. From big names like Starbucks to small-batch roasters, these brands have nailed the art of coffee branding.
1. Starbucks
2. Blue Bottle Coffee
3. Stumptown Coffee Roasters
4. Ladro Roasting
5. Tinker Coffee Co.
6. Portola Coffee Labels
7. Sweet Bloom Coffee Roasters
8. Four Barrel Coffee
9. Wrecking Ball Coffee Roasters
Wrap Up
There are many factors to consider when designing a coffee brand and label. The most crucial factor is the target audience; the design must appeal to the target audience and convey the desired message. Other important factors include the design's colors, font, and overall aesthetic. With careful consideration of these factors, you can create a coffee brand and label that will stand out from the rest.
In conclusion, the coffee brand and the label design should be simple and clean. The colors should be subdued, and the overall design should be minimalistic. The coffee brand should focus on quality, and the label should highlight the unique aspects of the coffee.
Related Topics:
5 Topics About Brand Identity
If you're interested to read more articles about unique brand identity and packaging design curated by ParoPop team, here are 5 topics we think you'll love!
Content by,
ParoPop Team