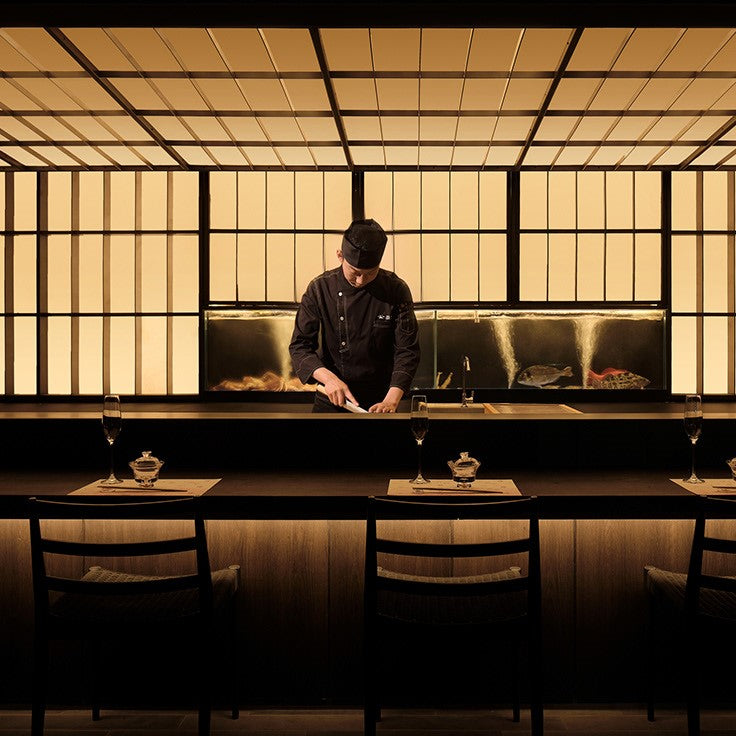 It might be pretty overwhelming to make several decisions when you are in the process of starting a Japanese restaurant, and these decisions can be pretty challenging.
If a business owner is considering opening a Japanese restaurant, consider these tips before starting your restaurant. It is essential that when establishing a Japanese restaurant, you focus on creating a welcoming and enjoyable environment for your guests.
With a few simple tips, you can create an interior design for a Japanese restaurant to help you stand out from the competition and succeed. Today, we'll discuss some of the best ways to design the interior of your Japanese restaurant to help you succeed and stand out from the competition.
A Step-by-Step Guide to Start a Japanese Restaurant
Knowing how to start a Japanese restaurant is an excellent idea for individuals who wish to follow the traditional path of opening a restaurant. Wondering what the best way to start a Japanese restaurant is? Here we guide you step by step from start to finish.
A framework for a Japanese Restaurant Launch
In suburban and urban areas throughout the U.S., Japanese cuisine is trendy. However, diners who frequently dine at Japanese restaurants for tempura, sushi bar, and hibachi expect an enjoyable dining experience blending quality cuisine with a Japanese-themed atmosphere.
There are many Japanese restaurants on the market, both franchises (such as Benihana) and independent establishments. The native Japanese chefs do not have a clear startup advantage over their non-Japanese counterparts.
However, it is still possible for non-Japanese entrepreneurs to run a successful restaurant if they use the culinary expertise of capable Japanese chefs to create dining experiences that are true to the authentic Japanese food culture.
Fresh Ingredients: The Backbone of Japanese Cuisine
The need for fresh ingredients is particularly acute in Japanese restaurants since sushi and sashimi are made with fresh, uncooked fish. Japanese cuisine relies heavily on fresh, uncooked fish for delicious sushi and sashimi. Many sushi chefs only work with Japanese ingredients.
There is no doubt that one instance of spoiled sushi can dramatically impact your business's success, particularly now that diners will be more than willing to share their negative experiences on social networking sites such as Facebook and Twitter.
As soon as you open your restaurant, you must establish strong relationships with your suppliers, especially for fish, vegetables, and other ingredients. Before you decide on one particular vendor, evaluating several options is a good idea, and ask other restaurants in your area for their recommendations. Sometimes, it may be wise to create redundant supplier relationships to avoid supply shortages or unexpected interruptions in your supply chain.
Critical Hires for a New Japanese Restaurant
The establishment of a Japanese restaurant, in addition to obtaining proper licenses and health certifications, will also be essential for your company. In fact, given the unique nature of Japanese cuisine, there will be a few specific hires that you won't be able to do without.
For a Japanese restaurant to succeed, a qualified chef who is experienced in Japanese cuisine is a must. Without a Japanese cuisine experience, a great chef cannot incorporate many of the details associated with traditional Japanese cuisine unless they plan on serving nontraditional or fusion cuisine.
Additionally, you may want to consider hiring a restaurant manager who has been involved in several successful Japanese restaurant launches. Although a successful Japanese restaurant manager is not necessarily necessary, hiring one can help minimize the uncertainty associated with a typical launch process, even though an experienced manager is not necessarily a requirement.
Japanese Restaurant Business Plans
When starting a small business, you need to have a well-structured business plan that you can rely on for external and internal reasons.
The business plan is one of the most critical aspects of your business, and cutting corners on it can be a precursor to disaster, even if a lot of tasks are screaming for your attention. There are a lot of arguments why your company cannot succeed without a solid business plan, regardless of how long it takes to create one.
To prepare an effective business plan, you must ensure that you fully understand the content and the scope of the business plan before you elect to exit the process.
Selection of Location
Most Japanese restaurants focus on local customers as a matter of strategy. As a start-up, you should start by gathering information regarding the local community you serve. Has the neighborhood changed over the years? 
If you are looking for a new site location, you should start your research by researching the community's demographics. The Census Bureau provides excellent demographic data, so you should start there.
Review the Competition
Looking at the Japanese restaurants surrounding your community before opening your own is a good idea to know what the competition will be. Take a moment to enter your city, state, and zip code on the form below to find a list of Japanese restaurants nearby.
Consider how existing firms have positioned themselves in the market and then design your business in a way that sets you apart from the competition based on your knowledge of how existing firms have positioned themselves.
Getting Advice from Experienced Entrepreneurs
There are a lot of tricks to understanding the Japanese restaurant business, and the best way to figure out the secrets is to talk to someone already in the business. Local competitors won't give you the time of day, mind you. Why would they want to educate a competitor who will become theirs in the future?
On the other hand, a person who owns a Japanese restaurant in a different city can be an excellent resource if they realize that you will not compete directly with them in their community. In my experience, many business owners are happy to share their wisdom with new entrepreneurs. However, you may need to contact ten different business owners before finding one willing to share his wisdom with you.
Business Brokerage for Japanese Restaurant Entrepreneurs
There comes the point in every entrepreneur's career when facing the decision to either start their own business or acquire an existing business. For many reasons, buying an already-established Japanese restaurant can be an excellent financial decision.
It is essential to choose a qualified business broker who can offer a range of services to make the transition to business ownership as smooth as possible.
A good business broker can help you ensure that you get the right business for the right price and help you avoid some of the most common mistakes people make when purchasing Japanese restaurants.
20 Japanese Restaurants with Amazing Interior Design You Should Know About
Japanese restaurant interior design is an essential aspect of the business. It is not only about the appearance but also about the atmosphere. It can attract customers and make them feel comfortable in your restaurant.
There are many different types of Japanese restaurants, from casual dining to high-end sushi bars. This article looks at various interior designs for restaurants; you can decorate your interior according to its type and style.
Base Anfu
Base Anfu is a high-end Japanese private dining and lounge focused on an abundant hotel dining experience in the center of the former French concession.
A minimalist and elegant idea was used for the interior design, inspired by traditional Japanese design components and details.
A straightforward, contemporary, and respectful interior has been created using extensively researched Japanese interior concepts and techniques.
Following the Wabi-Sabi philosophy, harsh natural elements like stone and rich wood contrast with delicate, exquisite fabrics to produce a classic interior design steeped in Japanese culture.
UMI
Umi, situated at the upscale and well-liked Taikoo Hui mall, is anticipated to become Shanghai's top attraction in 2018. The interior requirement called for developing a design approach for both the interior and outside that spoke Japanese and exuded western influences.
A distinctive dining ambiance that has yet to be seen in Shanghai is created by a rich fusion of traditional, modern western furniture items and Japanese detailing.
The Red Design was hired at the beginning of 2017 to design for restaurants Base Anfu and UMI. Red Design, with offices in Shanghai, China, and London, UK, creates thoughtful, immersive settings for restaurant, hospitality, and lifestyle businesses.
They operate on a worldwide scale, providing our clients with cutting-edge solutions and their customers with life-changing interactions.
Sushi Ginza
Sushi Ginza has a warm, inviting color which creates a feeling of comfort and relaxation, which makes it perfect for dining establishments. The combination of red and brown is also easy on the eyes and will not strain your eyesight.
Sushi Ginza's brand identity was created by Emspace Design in Kuching, Malaysia. Adobe Photoshop CS6, Autodesk AutoCAD, and Autodesk 3Ds Max were utilized to design the interior.
The eatery is situated in Sarawak's Saradise Block B-2. It has a red and brown blend to the interior, a great color pairing for interior restaurant design. 
Ink Show
A restaurant and commercial space in Nanjing, China, is called Ink Show. In 2022, the restaurant's design was completed. 
It has an int-requite dark theme design, a great way to enhance the restaurant's image and make it stand out.
The dark color scheme helps to achieve a high level of professionalism, which makes the restaurant look more modern.
NIGIO
In Nanking, China, there is a restaurant and retail space called NGIO. NGIO has a dark theme to its interior design.
Something about the dark theme in spaces makes one feel more comfortable and relaxed.
This is why many restaurants use dark themes in their designs is becoming a trend.
BlackGate
In Nanking, China, there is a restaurant and retail area called Black Gate. The dark theme design for the restaurant is an elegant and simple way to give the space a unique look. 
A suitable color scheme and decor can add a touch of elegance to the restaurant and make it stand out from the crowd.
3 Japanese restaurants Ink Show, NGIO and Blackgate are uniquely designed restaurants in Nanking, China, and Trio Studio is the interior designer for all of them. Over the years, they have won various accolades for their work, some of which include:
2022 A' Design Award

Interior Design Award for China by ELLE Deco 2021

2021 iF Design Award

2020 iF Design Award

2020 GPDP Award

APIDA 2016
InSitu SCR No.34
Interior design and home decoration are the specialties of InSitu SCR No. 34, a Taiwanese company. Hey! Cheese is the interior designer for InSitu SCR No.34. 
Hey! Cheese is a Taipei-based photography company that mainly works in architectural and interior design.
They enjoy participating in various novel activities, inspiring us to produce. Their team consistently looks at potential and vitality in each project because we live in a country with many different cultures.
They do not just regard themselves as executors but as creators, a group of original thinkers. You won't find any cliches at Hey! Cheese-only things merged with love and care. That is what they are glad to claim makes Hey! Cheese is unique because they depict life.
Sakae Ramen Bar
In a business center in Lviv, Ukraine's I.T. district, Sakae Ramen Bar is a modernized version of a traditional Japanese ramen bar with a modern décor on two stories.
The Replus Bureau in London, England, created interior design. Replus Bureau is a design company that develops one-of-a-kind projects for each customer with a philosophy that explores new aspects of creativity.
The design of their spaces is based on sustainability principles. They meticulously choose their materials and blend intricate textures so they naturally decay but do not break down. When others overlook it, they recognize the value of genuine goods.
They mix them with cutting-edge, contemporary solutions. By reevaluating historical heritage, we may seamlessly integrate the past and present.
Replus Bureau won the ArtSpace Award (Kyiv, Ukraine) in 2017 and 2021, and they were finalists in the OFFICE design category of the SBID International Design Awards (London, Great Britain). Over 200 projects are included in the portfolio of the agency.
Ram'n'Base Ramen Restaurant
The best way to ensure everyone feels welcome is to use bright colors in your restaurant's interior design. Whether you're decorating for a casual or formal dining experience, bright colors are an excellent choice because they can create an atmosphere of celebration and joy.
This is what the interior design for Ram'n'Base Ramen Restaurant provides, with a mix of bright blue and white colors. 
The interior design for Ram'n'Base Ramen Restaurant was created by Katarzyna Fiedorczuk and Damian Kozlowski of 74 Studiopl, an interior design firm with offices in Bialystok, Poland.
At 74 Studiopl, they think interior design is a complex process based on the research of their clients' expectations and needs and their passion for good design.
Yasuragi
Yasuragi, a café, and restaurant in Rama 2, Thailand, underwent an interior design project in 2022. The Yasuragi Restaurant has a unique violet color design. Violet color is one of the unique colors, it's a very rare color, and it's not very popular in interior design. 
The violet color was used on the walls and pathways of the restaurant. This color has made the place look more luxurious and expensive, which makes customers feel like they're in a particular area. 
Bangkok-based interior designer Saskan Chaiyapurk was in charge of the project. He has experience working for companies with offices in Thailand, including:
All Public Company Limited, C.P. 
Bareo & Isyss
Kingdom Houses Design
Activate More At Home
Siamtak
Interior of Thai Ma Wee
Kinoene Omoya
The main house, a significant cultural asset, is over 300 years old and has been the residence of the brewery's head for many years on the grounds of the Iinumahonke sake brewery in the town of Sakai, Chiba Prefecture. 
This building underwent significant renovations to open the sake and 24-season cuisine restaurant "Kinoene omoya" in 2022.
The room combines vintage fixtures and beams with contemporary interior design. The renowned "Yoshimura" restaurant's chef was asked to oversee the seasonal fare.
At "Kinoene omoya," the food represents the 24 seasonal divisions, which are also closely tied to sake brewing.
Tegusu Inc., a design company headquartered in Yokohama, Japan, created the interior design for Kinoene Omoya. As a result of their efforts, they have received a number of honors, including:
Behance Portfolio Reviews #4 2013 top honor
2013 Hiiii brand award nominees
"Make Sake Project As If" 2016: Asia-Pacific
Best of Asia 2018: "The sunrise in Shisui"
"BUDO," a 2018 International Book Awards finalist from Nikko Graphic Arts
"BUDO" by Nikko Graphic Arts, a Finalist for the Japan Book Design Award for 2018,
The 2019 Topawards Asia "Kinoene Apple"
TàN Izakaya
Japanese-inspired tapas bar with a South East Asian twist is TàN Izakaya. A location where people can gather to enjoy the cuisine, beverages, and wines with friends and relatives. Located in Malaysia's Johor Bahru.
The elegant design for TàN Izakaya was created by CheeHo Tan, a graphic and interior designer who is also the director of Studio TCH in Johor Bahru, Malaysia. 
The designer focuses on graphic design, illustration, and branding, and he did a fantastic job on the TàN Izakaya project.
Archi-Union in Bamboo
Archi-Union in Bamboo has a unique symmetrical and circular design that, from an ariel view, looks like the number 8. The interior design aspects of natural lighting were considered, and there's also a cool ambience of natural vegetation within the building.
The interior design for Archi-Union In Bamboo was handled by architectural photographer Lu Xiaobin from CL Studio, situated in Shanghai, China. 
In previous projects, CL Studio has also created some exquisite designs for various spaces. Some of these include:
Xihu Tearoom
Xiguan Guangzhou
Shanghai Library East
Xihu Tearoom
Wuxiangshan Yizhan
Xu Wei Art Museum
Lu Jingting Dental Clinic
The Sky City High-rise
6 Seasons
The concept of Six Seasons, a tiny, cozy restaurant on Vasilievsky Island in Saint-Petersburg, Russia, is based on the seasons of the year.
Seasonal changes necessitate a change in food portions, followed by an update to the restaurant's menu. This allows diners to experience the flavors of early spring or late fall through their cuisine. This culinary idea is highlighted and made clear in the interior, which surrounds the visitor with the warm feeling of a forest.
It is not frightful to enter the grove when night strikes because of the muted hues, natural textures, vegetation, and accent chamber lighting. The interior was created for 6 seasons by Berlin, Germany-based architectural design studio KIDZ.
Kabuki Restaurant. Cairo
The Kabuki Restaurant's interior. Ruslana Muratova, the head designer at the Dnipropetrovsk, Ukraine-based Muratova Indesign Studio, designed forKabuki Restaurant. 
She works as both an interior designer and a wife. She chose an elegant design for the Kabuki restaurant that makes it unique and different from the others.
This acts as a unique way to attract customers to the restaurant. Customers like to go to a restaurant that provides them with an enjoyable experience.
5th Settlement
A well-known sushi restaurant is 5th Settlement. Odesigns.Eamar, an interior design and architectural studio located in Egypt, created the interior design for the restaurant.
O Designs is a wildly popular Eamar Eldelta Group member, so they must provide the location with a distinctive look that satisfies visitors and meets their expectations.
Five years of increasing success in producing more than 500 units ( residential, commercial, and administrative).
Their success has been attributed to a cohesive team of interior designers and execution engineers working under the supervision of a technical, financial, and quality management supervisor and being guided by a precise cost budget for a given period.
Murasaki Japanese Restaurant
The interior design project for the Murasaki Japanese Restaurant was started by Muhammad Alfaritzi, a student of interior design from Bandung, Indonesia. He freelanced in the design industry, and his work was reasonably excellent. 
Murasaki Japanese Restaurants is essential for hosting clients, family, and friends. With so many restaurants today, it is essential to have a restaurant that stands out from the rest. 
For this reason, the designer incorporated a blend of traditional Japanese setting and modern architectural design into the restaurant so that it felt appealing to all customers.
Tokii Dining Room
James Newton from the United Kingdom created the interior decor for the Tokii Restaurant. He is a London-based photographer who specializes in lighting and architecture.
He uses a blend of still images, moving pictures, and video to showcase the work of architects and designers, offering detailed and impactful imagery.
His work has long focused on light, and after earning a degree from Edinburgh College of Art, he trained to become an architectural lighting designer.
This gave him the professional experience and technical know-how necessary to ensure that he could comprehend projects from the perspectives of both the photographer and the designer.
Sake Labo
Sake Labo is the Japanese word for sake. It has a bar and a mezzanine and has an intriguing Japas dining idea. At the entrance, sake containers are on the ledges of the bridge. Those are premium craft sake products made in small batches and imported directly from Japanese breweries.
Tsukurto Studio, an interior design studio with offices in Singapore, created the interior decor for Sake Labo. Tsukurto was established to bring together various people with various passions for creating, building, and assembling jointly. 
They enrich our project teams and a variety of practice areas, including restaurants, community spaces, retail, and offices, with their vision, talent for management, appreciation for excellent design, and building strong interpersonal connections.
ZEN
At Tamen, design is a language their projects are recognized for using natural materials and space to create experiences that customers live in every day.
The interior of ZEN Japanese Restaurant is distinguished and heavily made of wood. Zen Japanese Restaurant's interior was created by TAMEN Arq, a Hermosillo, Mexico-based firm. 
They have undertaken numerous design projects over the years, giving them a world-class reputation when it comes to interior design. 
How Much Money Do You Need to Start a Japanese Restaurant in The U.S?
When starting a restaurant, one daunting task is estimating the start-up costs. Numerous factors can affect this number, such as whether you are leasing or purchasing land. 
If you are leasing land, a median assumption of cost for starting your restaurant is $280,000. The most significant parts are $140,000 to construct a building, $75,000 for kitchen and bar equipment, and $20,000 for the technology to process orders and payments. 
It may cost $20,000 or more to provide the relevant furniture you need. Other costs include about $10,000 for your initial food and drink supply and about $12,000 on relevant insurance, licenses, and permits. 
The first month of utilities will be about $3,000. These estimates do not factor in ancillary costs such as marketing or employee salaries. With all these factors considered, it's no wonder that restaurant start-ups can be costly endeavors. However, a new restaurant can be a thriving success with proper planning and execution.
How Does Japanese Restaurant Interior Design Play a Role In a Japanese Restaurant?
You want to ensure that your establishment's interior design is marketable to social media platforms and entice potential customers who see pictures online. In the age of social media, your establishment's interior design is your salesperson. If your restaurant creates a welcoming design, customers will likely stay longer and order more, becoming a popular spot for locals.
Japanese interior design can help with prior written permission. In addition, Japanese interior design can help your business succeed in the age of social media.
The following are three ways Japanese interior design can improve the reputation and longevity of your restaurant.
Market Your Restaurant With an Eye-Catching Aesthetic
Happy customers are more likely to spread the word about their experiences through social media. This type of word-of-mouth marketing keeps your restaurant busy and attracts more customers. Make your restaurant's interior social media friendly to encourage larger audiences and first-time visitors. 
To encourage more patrons to come to your restaurant, ensure good lighting, luxurious plating, and an inspiring aesthetic to promote your establishment. By incorporating Japanese design, you are showing the actual colour of Japanese culture.
Influence the Customer's Psychology
Many factors can affect the psychology of a customer when it comes to traditional Japanese design elements of a restaurant. For example, the sound, color, and scent can be drawn into the restaurant or ushered away. 
Your establishment can be judged by how long your customers will spend in your establishment if you provide comfortable seating, pleasing Japanese aesthetics, and neutral temperatures throughout your establishment. Your focus should be on providing comfort and a welcoming atmosphere for your customers.
Communicate Your Brand Through Interior Design
There is no doubt that customers want an enjoyable dining experience. Restaurants may be a success if they have a personal dining room. A restaurant may have high-quality drinks and fresh ingredients, but it can still lose customers if its interior design is not up to standard.
A restaurant can use traditional Japanese materials to market the restaurant, create a brand aesthetic, and influence how customers perceive the restaurant if you develop effective traditional Japanese materials. For example, an ideal interior for many restaurants would utilize natural light, subtle designs, comfortable but chic seating, and subtle designs. However, shabby Japanese interiors can negatively impact customers and lead them to leave before ordering.
How to Design a Restaurant Interior Layout
Japanese restaurant design is an essential component of attracting customers. It should be like a magnet for guests, promising them a culinary and sensory experience that is second to none. So if you just bought a restaurant or are starting from scratch, here are some tips on designing a restaurant interior:
1. Develop a Layout Plan
You should create a layout plan before making any type of physical change. This will give you a sense of the furniture's location, size, and arrangement. For example, the washroom should be at the side and the kitchen at the back. You should also maximize space near the windows. Customers and servers should have clear paths.
2. Create a Stunning Entrance
An attractive entrance to customers can be one way to attract them to the restaurant. You should design the entrance in a unique, classy, and inviting way. The restaurant's name should be prominent and visible from the street. Depending on what cuisine you serve, you can use colorful and decorative images of spices and herbs for the entrance. But if you serve seafood, you might want to use a water/ocean theme. 
3. Focus on the Demographics
Think about your customers when designing your restaurant. For instance, if you target college students and teenagers, you may want to use bright and bold colors, with music-based wallpaper and retro furniture. On the other hand, if you are targeting business people, use light-colored furniture and padded banquet chairs. In addition, the corner bar should have funky decorations with tiki lighting features. Finally, the furniture must look neat and appealing.
4. Light it Up for the Customer
The lighting in a restaurant should be electric and natural to induce a soothing effect. Furthermore, choosing the right light colours is crucial since they influence moods and feelings. For example, you may want to consider a tabletop light for late-evening meals in a semi-dark room to evoke a sense of romance and intimacy. Ensure the lights are adjustable to match the space, colors, and time of day.
5. Be Color-Wise
Don't use tacky or dull colors because color affects moods and decision-making. The color scheme should make the restaurant feel spacious and bright. For family-style restaurants, use soft pastels and brighter colors at the bar. In general, the colors should match the theme and the Customer of the restaurant. 
6. Consider Table Styles
Ensure that the furniture layout does not impede customers' or servers' movements, and reduce monotony by blending tables while paying attention to customers' needs, wants, and privacy.
7. Install Stereo System
The type of music in a restaurant will depend on the overall theme of the restaurant. Music appeals to all the senses and encourages customers to eat more. If you want the music to echo from different places in the restaurant rather than blaring from one speaker, install the latest state-of-the-art stereo system.
8. Don't Forget the Restroom
It is common for the restroom to be neglected during the design of a restaurant, but it is an essential part of the business. Customers should have fun when they use the restroom, not dread it. In addition to being spacious and bright, your restroom should be easy to clean. You want your restroom to smell fresh and odour-free. No matter how much Gordon Ramsay cooks for you, a dirty, dingy restroom is a surefire way to lose a customer.
9. Or the Kitchen
You should put great effort into designing your kitchen to near perfection since it is the centre of your restaurant. Rather than creating congestion, go for an open-concept kitchen. Keep the kitchen bright and well-ventilated, and make it accessible to your customers. Use glass doors and windows to show what is happening inside the kitchen. There should be plenty of room for cooking, walking, and cleaning in the kitchen.
10. Look at the Floor
Finally, don't forget the flooring. You have many flooring options for a restaurant, but here are some features to consider:
Safe: To make your flooring non-slippery, consider adding an anti-slip coating regardless of the material you use.

Noise: Restaurants often suffer from noise, so use flooring that absorbs sound and dampens it. Some good options are concrete and carpet. Sound-dampening panels can also be used on the walls and ceilings.

Durability: Most restaurants experience rapid wear and tear on their flooring due to foot traffic and spills. To prevent this from occurring, consider installing hardwood floors since they are aesthetically pleasing, durable, and resistant to wear.

Maintenance: It is inevitable that food and water spills will fall on the floor of any restaurant, so you need flooring that is easy to clean and maintain. Carpets can hide stains, but they can be challenging to clean. Hardwood is relatively easy to clean, but it will require regular waxing and polishing to keep it looking beautiful. Concrete is another easy-to-clean option, wear-resistant, and low maintenance.

Cost: In addition to the high-quality vinyl, carpet, and laminate options, there are also many low-cost options available for restaurant flooring, including exotic wooden elements.
Key Takeaways
When opening a Japanese restaurant, it may seem overwhelming to make several decisions. Making these critical decisions in a way that makes sense for the restaurant can be challenging. Here's what we have learned in this article so far.
You can market to your customers, influence their psychology, and communicate your brand through good Japanese restaurant interior design.

Make sure you use colors matching the restaurant's theme and target market.

For restaurant flooring, concrete is a good choice because it is easy to clean, wear-resistant, and low-maintenance.

The restaurant needs to be equipped with a state-of-the-art stereo system, which can play the music that matches the restaurant's mood exactly.

The average cost of starting a restaurant in the United States is $280,000 if you lease the land.
If you are new to the food business and are interested in starting your Japanese restaurant, here are some articles you might want to read.
Suggested Articles
5 Topics About Brand Identity
If you're interested to read more articles about unique brand identity and packaging design curated by ParoPop team, here are 5 topics we think you'll love!
Content by,
ParoPop Team