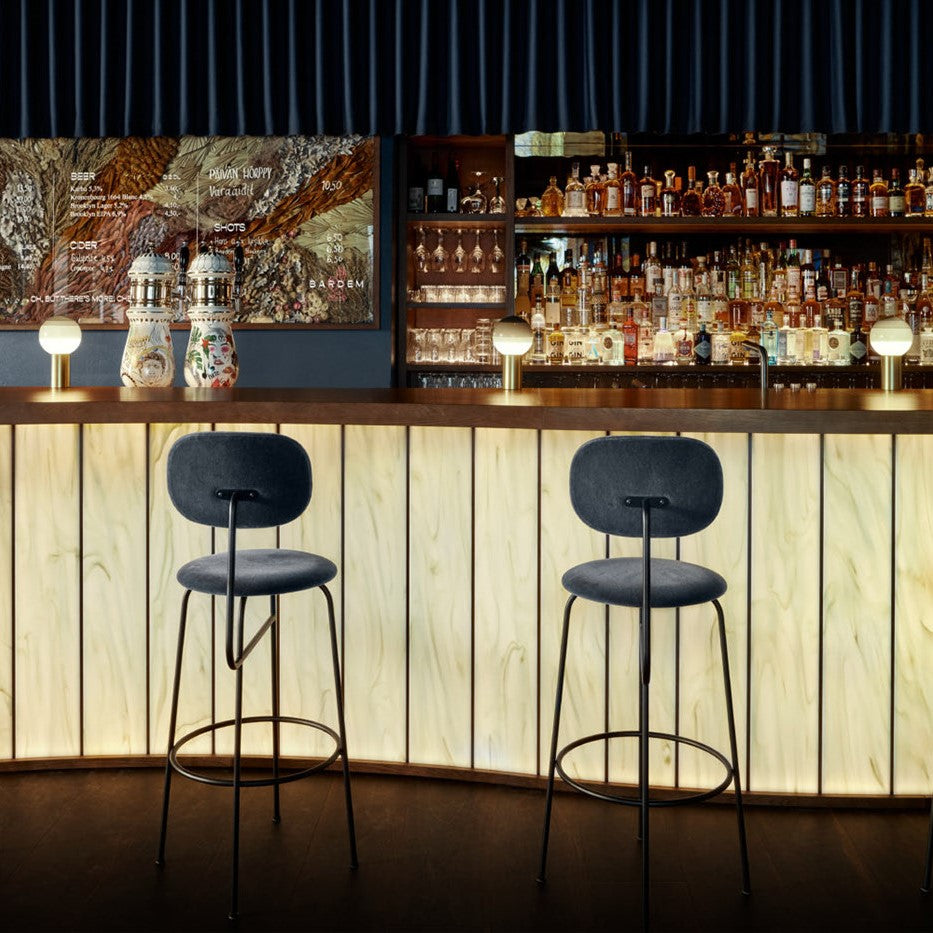 In your mind, picture the atmosphere of your dream bar. What kind of bar would it be? Maybe you picture a dimly lit neighborhood dive bar with a jukebox playing in the corner. Or maybe you picture a high-end cocktail bar with a gleaming mahogany bar top, lined with rows of top-shelf liquors?
A bar brand is much more than a catchy bar name and a creative cocktail menu — even though both are also important! In order to build a successful bar, you must plan, research, and execute.
In the end, it will all be worth it, because a thriving bar with a loyal clientele will reward you for your hard work. Let's get started with this guide, so you can start your own cocktail bar brand without any problems.
16 Jaw-Dropping Cocktail Bar Brands & Designers With Stunning Architecture & Interior Designs
A cocktail bar's architecture and interior design can be just as important as the drinks served within it. After all, how a space looks and feels can be the difference between a casual catch-up and a night to remember.
Cocktail bars have to be many things: comfortable, stylish, and Instagram-worthy. But most importantly, they have to have a personality. The best way to give a cocktail bar personality is through its design.
With that in mind, we've rounded up 16 of the most jaw-dropping cocktail bar brands & designers with stunning architecture and interior design from around the world. From opulent decadence to sleek minimalism, these spaces have been designed to wow – and they deliver.
So, read on if you're looking for design inspirations for your own cocktail bar.
Six Sharp Cocktail Bar, Guang Zhou, designed by Ya Space by Xiao Yu
Six Sharp Cocktail Bar is situated in Guang Zhou, a sophisticated cocktail bar offering patrons a unique experience. The brainchild of renowned architects and interior designers, the Six Sharp team, has created a stylish and functional space, focusing on providing the perfect setting for enjoying a selection of signature cocktails.
The use of natural materials, including marble and glass, and some written quotes on the walls give the bar a luxurious feel. At the same time, the clever layout ensures that there is plenty of space for guests to mingle and enjoy the relaxed atmosphere.
Ya Space was established in Shenzhen, China, a creative design agency responsible for designing the Six Sharp Cocktail Bar brand. They seek to treat each project as a work of life and polish it with ingenuity. From task formulation, planning scheme, interior design, landscape design, construction control, soft furnishing, and material selection to completion, the whole process is deeply involved, allowing the concept of life aesthetics to run through the design project.
To this end, they design many other brands such as Chichy clothing exhibition design, Soocas, Mou Tai, Wine Cellar, KA lighting, Leeneen clothing exhibition, UHOT clothing fair 2015, China International beauty expo, and Fashion Hebei.
Bar Pine, designed by Ting-An Ho
Bar Pine is a cocktail bar in the heart of Taipei. The bar has a sleek and modern design, with an open layout that designs most of the small space. The bar comprises two areas - the main bar area and the seating area. The main bar area features a long island bar with stools for guests to enjoy drinks.
The seating area is behind the main bar and features a mix of comfortable sofas and chairs. Natural wood and stone materials give the bar a warm and inviting atmosphere. The lighting is dim and atmospheric, and the music is subtle and relaxing.
Ting-An Ho, is an art director and graphic designer in Taipei, Taiwan, and She is Bar Pine's brand design creator. Ting-An Ho was born in 1991 and had experience working at the brand design firms listed below.
Director at Tinganho in Taiwan

Art director at Ultacombos in Jan 2019- Taiwan

Creative director at Studio 411 in April 2014-Taiwan
While at university, he started putting himself forward and volunteered to re-design the identity of his College, and began as an art director. Starting as a graphic designer, he enjoys being involved in a variety of design practices, created numerous branding projects which inspired a wave of digital aesthetics, such as Packup Outdoors, Ku Mincho, Type Waterfall, Very Taipei, Reference, Digiwaves 20121, Meta, and Tung Min Award and also recommended to become one of the most influential young gun designers in Asia.
Nest by PUN, designed by Hey! Cheese
UPSILON is a shisha cocktail bar in Taipei that is quickly gaining popularity for its unique design. The bar has a relaxed and fun atmosphere, and the drinks are reasonably priced.
In addition to its incredible design, UPSILON Cocktail Bar offers a menu of inventive cocktails that will tantalize your taste buds. The bar is made from beautiful marble, and the walls are adorned with brass and mirrors. The overall effect is chic and elegant, creating the perfect atmosphere for a delicious cocktail.
"Come to the bar to wake up, not to get drunk." PUN in Taiwanese is also the homophony of "bee" and "fragrance". It integrates the cultural background of bartenders, tea, and incense, trying to burst out a distinctive five-sense tasting aesthetic.
PUN is a relatively underground, psychedelic, and urban bar. It is constantly flowing at night, a very noisy and lively place. They've always wanted to do an experimental field that's more of a cocktail, so they came up with NEST. The interior design contains the concept of a nest and hive that makes it a unique place.
Hey! Cheese is the designer of the two brands mentioned above. Hey! Cheese is a Taipei-based photography company that mainly works in the architectural and interior design realm; they love to be engaged in all sorts of new things inspiring us to create. Living in a land full of diverse cultures, our crew always explores possibilities and vibrancy in each project, such as Insitu, Dou arch, Soar design, Hoddi design, Nordico, and Studio VVHH. As a team composed of pioneered creators, they do not see themselves as executors but as those who craft new things.
Bardem, designed by Kallan & Co
Even though the bartenders were knowledgeable and the ingredients were important, the emphasis was on having fun while enjoying good beverages and nibbles in a relaxed setting. Therefore, the establishment's atmosphere (and identity) was intended to be a wonderful blend of traditional and enjoyable rather than overly serious or "craftsy." intended pun.
They named it Bardem, inspired by its big sister, the restaurant Penelope. The space is outfitted with dark wood floors, vintage light fixtures, and comfortable leather furniture. The bar is crafted from reclaimed wood, and the walls are lined with carefully curated bottles.
Situated in Helsinki, Finland, Kallan & CO is credited with creating a design for Bardem's brand identity. The studios use virtual working models and the latest design technology to create better quality faster than ever.
They build their constantly evolving design philosophy on rapid prototyping, craftsmanship quality, and the open talent economy. Some other eye-catching designed brands are Zero Co, Sisu Data, Zedsen, Hyperco, Cupbio, Bardot, Mutecam, and Kaska.
THE Sweet Cocktail Bar, designed by KSh Design
The Sweet Cocktail Bar is a concept restaurant in Abu Dhabi that goes from a daytime dessert cafe to a cocktail bar at nighttime. The area was designed to have an appealing aesthetic reminiscent of an oriental desert while also being hip and contemporary enough for its evening use.
The interior of bar and restaurant is dominated by rounded shapes and gentle curves, with walls painted in subdued tones of peach and caramel. From massive dried floral arrangements resembling Ikebana on the ceilings to lighting fixtures modeled after frozen caramel rings, the designers subtly include motifs that play on notions of sweetness and spice.
Ukrainian architecture practice KSh Design Bureau visualized these renders of The Sweet Cocktail Bar. They are a team of skilled designers and architects specializing in private architecture and interior design for residential and commercial facilities.
They use unique and pleasantly tactile materials and transform them into a refined, timeless design such as a Stylish Paris office, Creative agency workspace, Spacious apartments in Sardinia, and Lobby of the business centre. 
MA Espresso & Bar, designed by Trang Thanhcao
MA Espresso & Bar is a new hybrid space that blends the traditional espresso bar with a modern cocktail bar in HCM City. They wanted to create a space that would be both functional and visually pleasing while also incorporating a sense of playfulness and humor.
The result is a unique and one-of-a-kind space with various areas to explore, such as the lobby, bar counter, lounge, hallway, and lounge VIP. The front of the room features the espresso bar, which has a sleek and minimalist design. The back of the space features the main counter of the cocktail bar, which has a more playful and colorful design. The two areas are connected by a central seating area, which features comfortable chairs and tables for guests to enjoy.
Trang Thanhcao, a visual graphic designer from Vietnam, is the designer behind MA Espresso & Bar. He did his bachelor's in interior design in Ho Chi Minh City and worked as a graphic designer in many firms, including Levants and Sadboizaintcry in Vietnam. Trang Thanhcao also designs the social media platform Tiktok Office and Astrid.
Rabbit Hole Cocktail Club, designed by Valerio Visagli
Beijing, China, is the location. The proposal comprises two areas, one on the first floor (ground floor) and the other on Dongzhimen Street 27. An interior stair will connect the spaces; however, used for different kinds of business. The entrance is through a hidden door behind the stairs, which leads into a dimly-lit lounge whose walls are lined with rabbit art.
They use red neon lights to enlighten the bar and two Chinese sculptures on both sides of the main counter area. The decor and layout of the bar are designed to make guests feel like they have stepped into another world.
Milan, Italy-based creative designer Valerio Visagli, has designed the Rabbit Hole Cocktail Club. He has been designing for the last 12 years and has built various human-centered interior and architectural spaces for businesses. In 2022 Valerio joined the fantastic world of freelancing.
During the past years, Valerio worked for some of the most famous architecture & interior design firms, making the future of workspace office and many other cool projects, including the DBS Bank office, Car racing 3d animation, China Masterplan, WR2.3, Archaeological Museum, Microsoft Garage Beijing, and Reception Renovation JLL Headquarter.
Drunk Delon, designed by KIDZ
The new bar on Nikitsky Boulevard has been primarily shaped by the aesthetics of the film industry, the small space, and the pre-party format. They have modified the inside to accommodate two different scenarios as part of the "come in, have fun, leave" concept: a casual format with a comfortable low seat.
Friday party with space for dancing and loud, lively discussion in the crowd. Folding chairs may be hung on the wall, the sofa is simple to divide into individual poufs, and low tables can be quickly transformed into bar tables with just one hand motion.
KIDZ architects and designers make this Drunk Delon brand a bit more convenient, beautiful, and interesting through their design from Germany. For nine years, the KIDZ team has been doing what it loves - creating and implementing spaces where you want to spend time. They did many interior designing projects like Office Nissan, Origami Lamp, Developer office, Pims Venukovo, 6 Seasons, Memo, Pims Tea, and Pasto Fresco.
Madame Kew, designed by The Lab Saigon
This historical villa was once owned by Ha Bn Há, a Chinese-Vietnamese businessman and philanthropist who lived in the 1900s.
It serves as the ideal backdrop for illuminating the brand history of Madame Kew, a Shanghaiese who fled to Vietnam during World War II and settled there to find her namesake cocktail lounge.
Interior design is an exercise in detail and storytelling. Each item is meticulously designed and crafted to evoke the taste of the times. For the bar's custom side panel, they insisted on hand-selecting green-hued seashells (sometimes known as "mother of pearl").
The Racha Room, designed by The Lab Saigon
The Racha Room is a Saigon institution. Its original location stands on Mac Thi Buoi street. They wanted to give this new space its personality in details and compositions while staying true to the brand. They love that the tree is obstructing the facade, adding unintentional mystique.
The bar counter, wine shelves with a moving ladder, and shelving units are references from a royal office, while details in joints and handles evoke Thai motifs. Thai characters inspire custom illustrations. A massive elephant mural (an icon of the Racha Room) towers over guests bringing a sense of scale and personality to the space.
DAO HOUSE, designed by The Lab Saigon
DAO HOUSE, also called HOUSE OF DAO, is a spatial and branding undertaking that takes a suggestion from Dynastic Vietnam and thoroughly incorporates it into this century. They're no longer seeking to recreate it. Instead, they imagine what the lords might have accomplished if they had access to new materials and had been aware of recent studies and tastes.
Type and iconography design inspired by logographic Chữ Nôm and find itself throughout the space and collaterals. The main bar features an acrylic backlit lotus pond-inspired dropped ceiling. The illustrations can be found on printed collaterals and door frame ornaments.
The Lab Saigon is a Company of Creatives that created the designs for Madame Kew, The Racha Room, and DAO HOUSE cocktail bars. Focus on branding, interior design, and graphic design. They've worked with diverse clients, from multinational companies to small shops, from interior designs to NFTs, and almost everything.
They also own some businesses around town. Bakes Mooncake 2022, Duck Fake News, Pheonix Office, FPDB Creatives, and zeon are some of their other design projects.
My Friend's Bar, designed by UP2DATE Architects
The garage theme serves as the foundation for the bar's idea. Everything dumped on racks after being discovered in a friend's garage, including old carpets, boards, metal sheets, vintage furniture, and lighting, has a home. The entire space has been given new vitality and now nicely complements the new bar.
Akhat, founder and CEO of the architecture and design studio UP2DATE Architects based in Almaty, Kazakhstan, is the design maker for My Friend's Bar.
Some of the works they are working on are presented here, such as Messa Boutique Almaty, My Flow, Flower Boutique corner, Kitchen and dining, Orion Apartments, Nauryz Apartments, Office Koktobe, and Kalian bar. You can find more information on their website and Instagram account and they work remotely worldwide.
栖. Habitat bar, designed by Goo Goods Life
栖. Habitat bar is a cocktail bar located in Taichung city, Taiwan. The name "栖" means "to dwell" in Chinese, and the bar was designed with this concept in mind. The goal was to create a space to encourage people to stay and linger rather than grab a drink and go.
The space is divided into two main areas - a lounge area with comfortable sofas and a more traditional bar area. The bar is made from concrete and glass, and the overall design is clean and minimalist. Using natural materials and a neutral palette creates a calming and inviting atmosphere. 栖. Habitat bar was founded in 2013, it creates furniture and home furnishings with a simple, relaxed style.
Goo Goods Life is the interior designer for 栖. Habitat bar brand identity. They started their journey at the Qin Art Museum in Taichung. The tentacles range from product, graphic, exhibition planning, and space design to many large-scale art installations.
Started business in 2008 and established Ink Daily necessities, sharing situations and stories through products. In 2012, a design company and two selection stores were established successively. In 2015, the ChiHong furniture brand was established, and it proposed a series of situational and mobile products. In 2017, it brought its works to the Milan Furniture Fair, the world's design hall, with footprints from Italy, Germany, New York, Japan, and other places.
TINGTANG BAR | 厅堂, designed by TRIOSTUDIO 三厘社
The Victorian era (1837-1901) was the peak of the British Industrial Revolution and the British Empire, and it belonged to the era of national inventors and adventurers. The diversity created by the collision of the classical sense of the palace and the modern sense of the industrial revolution has a unique charm.
With a longing for this familiar and unfamiliar era, the manager of the Ting-tang bar decided to design the bar space as a whole on the victorian concept in Nanjing, China. The design of TingTang Bar was a graceful and understated style that is modern and timeless.
In China, TRIOSTUDIO 三厘社, an innovative spatial design agency that is an interior designer for TINGTANG BAR | 厅堂. Worked for product design and graphic design companies and assisted many design projects to win international awards A 'Design Award 2022, ELLE Deco China Interior Design Award 2021, iF Design Award 2021, iF Design Award 2020, GPDP Award 2020, and APIDA 2016. Other interior design projects are Point, Nigio, The Great Lion, Black Gate, Ink Snow, Theatre, Uniuni, and Labour Union.
BALTHAZAR, designed by Rina Lovko Studio
"Balthazar" is a wine bar in the basement of an old Bessarabian market building in Kyiv. Long premises and a few obstacles made this project difficult to complete, but we gained a lot of experience. Paintings, tapestries, and other decor items were bought in the ancient city of Spain in a vintage marker.
The main color spectrum is warm bottle-green, and olive colors are selected for brick and wood. The common table and the bar table top are wooded from old wine barrels.
The steps of the entrance staircase are made of the same tree. They used tinted and glazed Soviet tile "Kabanchik", purchased at OLH (as Craigslist in the USA), for the bar.
The brand design for BALTHAZAR in 2019 was designed by Rina Lovko Studio, Kyiv's architecture and interior design bureau. According to Lovko, each individual and their environment determine the circumstances, and the architect, as a firm, must be able to interpret them. Only such a strategy will produce the intended outcome. It helps Rina Lovko Studio create a unique world where an architect and a client share a love for aesthetics and harmony. Semerey, Jolly, TDC Clinic, Cheshka, Noshka project, and MID are work examples in the fields of industrial design, residential architecture, commercial interiors, photography, and art direction.
What are the Steps to Build your Cocktail Bar Brand?
Rather than randomly testing new ideas, plan out a cohesive bar brand using these five steps. It will help you achieve your vision for your bar. 
Clearly Define a Bar Mission Statement.
Having a mission statement for your bar is an integral part of defining who you are, what you do, and what differentiates you from the competition. 
Drink communicates a specific type of patron they aim to attract through words like "classic," "time-honored," and "artisanal." This is vital for a bar brand.
Think about the type of patrons you want to see in your bar when building your bar brand. What will you provide to this market, and what is your promise to them? Also, why should these customers care about your bar? A mission statement should address these issues if it is crafted correctly. 
We'll begin by jotting down answers to these questions as we begin the development of your bar brand:
Who are you?

What are you doing and why? 

How do you plan to achieve your goals?

What are your goals and how will you achieve them? 
Choosing your unique selling point (USP) enables your brand to stand out from the competition and inspires loyal customers to choose your bar over others nearby. 
Position Your Bar in The Market.
As the mission statement describes the "why," brand positioning describes the "what" and the "where." Brand positioning describes how your bar's mission, vision, and identity differentiate itself from its competitors. You can better target and engage your ideal prospective patrons when you take the time to position your bar brand appropriately. 
Find Your Brand's Voice.
There is no doubt that visuals are important in branding. From the logo to the interior design, there is no doubt that visuals are important. However, bar owners often forget to focus on their brand voice. 
Your bar's brand voice determines the way in which it communicates with potential customers, existing customers, and the community at large. The brand voice of your bar determines how you communicate with the public. It includes your bar's personality, language, and stylistic choices. 
Your brand voice should reflect the personality traits you want to convey to your target audience. If you're marketing to an older demographic, you shouldn't use slang or expressions that are difficult to understand. The words "experiential" and "artisanal" can be used to describe a high-end experience. 
Make sure you invest time and effort into developing your brand voice. This will set you apart from your competitors and resonate with your target audience.
Develop the Look and Feel of Your Bar's Visual Identity.
It has been proven that how a bar looks and feels is one of the most important factors in how long it will remain in the minds of customers. After all, how your bar looks is the first thing customers notice even before they order anything. 
A bar's aesthetic should align with your brand voice in order to establish a consistent atmosphere across all visual mediums - your logo, social media content, signature colors, interior design, and even the way drinks are served. 
The fifth step of building a bar brand involves documenting everything in a brand book. 
Stay On-Brand with a Brand Book 
It is equally important to create a consistent brand identity for your bar as it is to provide great customer service. When your brand identity serves as the foundation of your bar, you are able to confidently market your establishment and strengthen relationships with every patron that comes through the door. 
You need to keep your brand consistent (aka stay on-brand), but it's not always easy. Enter: your bar's brand book. In a brand book, brand elements are outlined, such as voice, colors, tone, logo, positioning, and phrases. The book is also sometimes called a style guide or brand guidelines. 
As a result of your brand book, you will have a better understanding of how you use various materials, including:
Social media copy and visuals 

Website 

Email copy

Paid advertising

Google My Business profile

Menus

Team uniforms 
Brand books should be detailed and include fonts, graphics, photos, and phrases, so your team understands how to reinforce your bar's identity. 
You can control the narrative surrounding your bar by establishing a set of rules and guidelines. This will ensure that every touchpoint with customers reflects your brand's expectations and actively helps you gain new business. 
How to Hire and Train Bartenders for Your Business?
Whether you're opening a new bar or expanding your current cocktail menu, it's important to have a team of talented and knowledgeable bartenders. But how do you go about finding and training the best mixologists for your business? With a little planning and effort, it's easier than you might think.
First, take some time to define the specific skills and knowledge you'll need for your bartenders. If you're focused on craft cocktails, for example, you'll want bartenders who are familiar with a wide range of spirits and techniques. If you're more interested in speed and efficiency, on the other hand, consider looking for bartenders with experience in high-volume settings. Once you have a good idea of the skills you're looking for, use that as a guide when posting job listings and conducting interviews.
When it comes to training, it's important to focus on both practical skills and customer service. In terms of practical skills, make sure your bartenders understand how to make all of the drinks on your menu.
For customer service, provide training on things like handling difficult customers and upselling techniques. A good mix of both types of training will help ensure that your bartenders are able to deliver an outstanding experience to every customer who comes through your door.
How to Create a Unique Cocktail Menu to Make a Bar Special?
To create a unique cocktail menu for your business follow the following steps.
Think About Your Clientele
To find out which products sell well and which categories need to get more attention, run a product mix report from your POS. If you discover that 50% of your sales are in spirits, you will probably be able to achieve a lower pour cost in your spirit program compared to your beer and wine programs. Consider offering a wider selection of cocktails with a higher price point due to the popularity of your cocktail program. 
Have a Separate Drink Menu
A separate beer, wine, and cocktail menu is more practical and makes your options more evident than an oversized, crowded menu does. It is best to have a separate drink menu for most establishments. In addition, putting too much text on one menu can easily overwhelm your customers and make it difficult for them to choose a drink. Giant menus are difficult to maneuver, causing customers to accidentally knock over their drinks.
Put Thought Into the Number of Options You Include
You don't want to overwhelm customers with too many options, but you also don't want to limit their choices when you choose drinks for your menu. There's no established number of drinks to include, but it's generally a good idea to have eight to twelve different drinks available. There are a number of factors that can influence this number, such as which alcohol categories bars choose to focus on.
Keep Your Menu Updated
If you stock a new local beer but don't include it on your menu, it's going to collect dust on your shelves. Make sure you add new cocktails and specials and remove items you no longer carry. Customers will also be frustrated if you forget to remove items from the menu you're out of so that when they choose a wine, they don't find it available.
Adding seasonality to your beverage menu is also important. If your establishment is located in an area that experiences the seasons, don't offer spiked hot chocolate in the summer or frozen margaritas in the winter.
Include Drink Descriptions
The order of ingredients on a menu can subtly indicate quantity. Make sure you list each cocktail's ingredients. In the case of drinks, you should list the main spirit first, followed by other spirits or liqueurs, unless there is an eclectic component you want to emphasize. Last but not least, mention ingredients that are in smaller quantities, like bitters or syrup, at the end.
It is best to describe the drink's flavor, composition, and/or history if you wish to go the extra mile. Use words like "floral," "savory," "handcrafted," "small batch," and "smooth" to market your drinks effectively. You need to strike a balance between detailed descriptions and over-the-top, lengthy descriptions, which can appear pretentious and may irritate your customers.
Use Creative Cocktail Names
Choosing a cocktail name shouldn't be an afterthought. No matter how complicated the process is, do your best to think creatively! Think of quotes, puns, literary references, local folklore, seasonal descriptors, etc. Whatever you do, take time to think it through carefully!
Strategically Format Drink Prices
In order to make sure your drinks are affordable, make sure you include their price on your menu.
A price difference of at least one dollar between two types of wine will help customers see a difference, he says, and pricing beers from most expensive to least expensive will often lead to a more profitable purchase.
If you're going to place your prices, you should also avoid using dotted lines that lead from your item to your price. Dot lines make customers read down and to the right to find out what they'll get for a lower price. Instead, use the nestled pricing solution, where the price is carefully positioned after the drink description in the same size font, so customers will pass over it.
Don't List Calories
Although it's not a bad idea to appeal to the health conscious, listing every drink's calories can sabotage a fun, social activity that is meant to be fun and enjoyable. In the view of Next Level Marketing, many consumers prefer that calorie counts are not listed next to their cocktails, particularly for females. Instead, include a section with lower-calorie options to appeal to the health-conscious.
Include Drinks' Origins
Especially if the product is produced close to you, it is a good idea to mention its origin, since there are more and more local distilleries and breweries in the U.S. It's not uncommon for people to be willing to pay more for handcrafted spirits, beers, and wines because they like to support local businesses.
To increase value, mention where wine, beer, or spirit comes from. People may pay more for wine from California or beer from Germany if they know where it comes from.
Strategically Place Profitable Drinks
Most customers glance at the menu's top right corner first. Once this spot has been reached, people's eyes tend to focus on the first and last items on the menu. Place your most profitable drinks strategically in these places to attract customers' attention. They are more likely to sell if you draw more attention to them.
Visually Emphasize High-Profit Items
It is best to place high-profit items in a box or separate them from other menu options to make them more visible. You can use negative space to draw attention to an item, making it easier to sell. Alternatively, you can use large text, graphics, and illustrations to achieve a similar effect.
What Type of Equipment Does a Bartender Need for Making Cocktails?
Providing your customers with drinks of consistent quality and taste requires experienced bartenders working behind the bar. This requires more than the right liquor, mixes, and other ingredients that bartenders need to make drinks.
They need the right tools as well so they can mix and serve drinks efficiently and quickly.
Bar Mats
With bar mats, bartenders can prepare drinks on a protected surface, preventing spills and protecting the bar's surface from wet glasses. Made from thick and heavy rubber, these mats drain any spilled drinks and can be easily emptied into the sink.
Service Mats
In much the same way as bar mats, service mats are used to place drinks on which servers can deliver them to the customers. These mats provide stability over the drinks, so there are less spills and probably a reduction in waste costs.
Bar Spoons
It is common practice to gently mix distilled spirits to maintain a balance of flavor when mixing a cocktail, such as a gin or a whiskey cocktail.
Using bar spoons is a great way to stir the ingredients in a smooth circular motion, without breaking down the ice. The long, twisted handles of these spoons make it easy to stir. Additionally, they allow bartenders to layer drinks, by pouring a second liquor or mix down the stem of the bar spoon, creating an appealingly layered drink.
Bottle Opener
Using a wall-mounted bottle opener is the best way to ensure that you won't misplace it behind the bar. If you offer beer on tap, you won't need a bottle opener, but if you serve bottled beer or other capped beverages, you'll need one.
Corkscrew
Get a stainless steel corkscrew with an easy-to-hold handle that slides effortlessly into the cork and extracts easily without damaging it.
Cocktail Shaker
One or more cocktail shakers are used at a bar to serve customers the perfect shaken drink. A sealed stainless steel shaker contains liquor, syrup, fruit juice, and ice. After vigorous shaking and mixing of the drink, shakers allow for easy pouring into the customer's glass. Many shakers are equipped with built-in strainers to separate ice and other ingredients.
Cocktail Strainer
For cocktails without ice, you'll need a cocktail strainer if your shaker doesn't come with one built-in. You'll need one of these to make cold drinks without ice. In the shaker, a strainer is placed over the mouth, with small holes that allow the drink to pass through, leaving the ice behind. 
Cocktail Rail
A cocktail rail, which is also known as a speed rail, is a metal rack that holds liquors and mixers your bartenders often use to prepare drinks. The rail can be attached to the side of the bar for quick access, saving bartenders valuable time reaching for bottles they use frequently. 
Cocktail Pourer
Using measured pourers allows you to control and manage your liquor inventory and prevent your bartenders from overpouring. Bottles that don't have a pourer increase your operating costs. Pourers are placed on top of bottles to pour consistent and even shots of liquor and mixes.
Cutting Boards
In order to prepare garnishes for cocktails, you'll need at least one cutting board. Cutting boards provide a hygienic and safe surface for chopping, as well as protect the bar top. Choose a board that's sturdy, durable, and non-slip.
Ice Kit
In most cases, your ice maker will suffice, but if you want to impress your guests, you can use various shapes of ice. For example, spheres can be used for bourbon and whiskey on the rocks, and floral molds are great for cocktails.
Juicer
It's difficult to beat the taste of lemon, lime, or orange juice in a cocktail. Invest in a hand-held juicer or a larger, standing hand-press juicer if you make a lot of cocktails with juice. 
Key Takeaways:
Any bar's success depends on how it chooses to brand itself. The look, environment, sound, and feel of your bar all contribute to the perception of your business. So far, this is what we have learned.
A successful bar needs a strong brand identity that is reflected in its name, logo, website, and social media presence.

A consistent brand message should be communicated across all channels.

Potential customers should know what to expect when they visit your bar.

In order to avoid legal trouble, you must have a valid liquor license before you open for business.
Even though it is important to have a catchy bar name and a creative cocktail menu, a bar brand is much more than that! If you're looking to get started in the cocktail business and wanted to build your own brand, the following articles might help you out.
Suggested Articles
3 Topics About Brand Identity
If you're interested to read more articles about unique brand identity and packaging design curated by ParoPop team, here are 3 topics we think you'll love!
Content by,
ParoPop Team