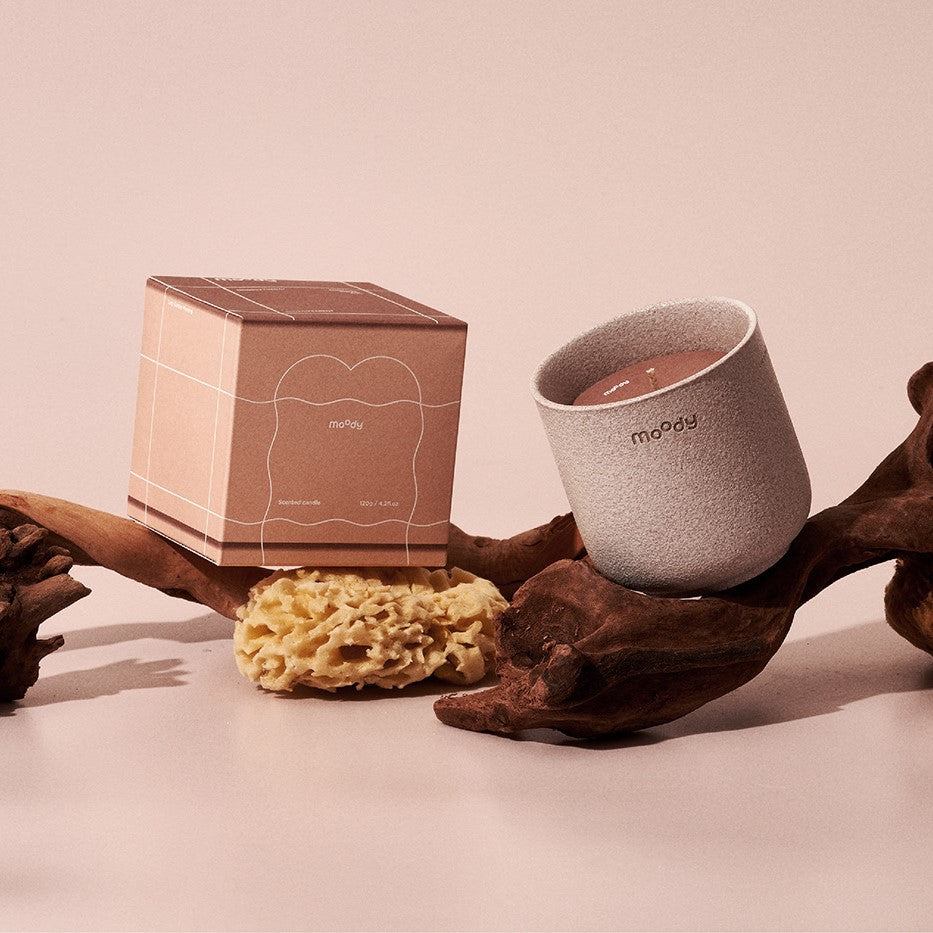 Scented candles are becoming increasingly popular as people look for ways to relax and de-stress. You must know about candle packaging design if you're looking to start a scented candle brand.
We will discuss some of the most critical aspects of scented candle packaging design, including how to find the proper manufacturer and what kinds of techniques are most popular.
We'll also give you some tips on how to create your own candle packaging design that will stand out from the competition. So, read on for all you need to know about scented candles!
Why Do Scented Candles Exist?
The scented candle is a popular choice for adding atmosphere to any room. The scented candle is designed to fill the space with the desired fragrance.
This can create a particular mood or atmosphere, mask unpleasant odors, or enjoy a pleasant scent. Candles are made from various natural and synthetic materials, each of which contributes to the final fragrance. 
What Makes People Love Scented Candles For Their Homes?
People customarily use scented candles to make their homes smell great. Scented candles are also used in Aromatherapy, an alternative medicine practice that uses plant extracts and essential oils to improve a person's health or mood.
People usually buy custom-printed candle boxes that carry beautiful customizations and fragrances. Certain scents are believed to have therapeutic properties that can be used to boost energy levels, ease headaches, improve focus, relieve stress, and even promote better sleep.
In addition to their potential health benefits, scented candles add elegance and ambiance to any room. 
What Is the Impact of Candle Packaging Design on Brands?
People love scented candles for home because they are a simple way to make any space smell great. Whether you want to freshen up your living room or fill your bathroom with a relaxing scent, scented candles are an easy and affordable solution.
Plus, there are many types and sizes of scented candles to find the perfect candle for any room in your home. Candle boxes are also a popular option for gifting scented candles. They come in various sizes and styles, and you can even find custom candle boxes designed to fit your favorite candle perfectly. 
The main focus of your candle business might be to provide delicate sensory experiences to the customers. Many luxury candle packaging ideas include embossing, hot foiling, and inside printing.
Whether you're looking for a unique gift or want to enjoy the pleasant scent of a scented candle, a custom candle box has what you need.
21 Unique Scented Candle Brands You Should Be Excited About
Candle packaging is essential not only for the physical protection of the candle but also for its aesthetic appeal. The best candle packaging designs can make a simple candle look luxurious and sophisticated or can add a personal touch to a scented candle. We've compiled a list of 21 of the best and most unique scented candle brands.
Oda Candles, designed by MarkaWorks Branding Agency
Oda Projects is an architecture and design agency that aims to facilitate and improve people's lives with the Power of design. They have various scents and styles, making them the perfect choice for any occasion. They have created three different packaging and label designs for each series. Their candles are made with high-quality ingredients and are hand-poured to ensure the perfect flame.
Marka Works, the talented designer agency behind Oda candles, is based in Istanbul, Turkey. They specialize in branding, packaging, web & 3D. They have highly skilled professionals dedicated to helping their clients create and build successful brands like Friday Floats, Cey Natural Foods, Caffeinication, Amano, Alici's, Spout, Pawly, and Dr shark.
Elibe Candles, designed by Yamila Gonzalez
Elibe Candles is a brand that creates luxury candles and scented oils by mixing natural ingredients with the highest quality oils. Their natural candles come in many colors to fit any event or home decor.
The designer of Elible's candles brand is Yamila Gonzalez. Yamila is a graphic designer based in Madrid, Spain, who graduated from the university of Buenos Aires in 2019.
Yamila is highly creative and puts a lot of effort into every project, including Be You, Beachouse Hotel & Spa, fragrance packaging "Hum Good", and the organic hand soup "Silky Kiss". She undertakes, making sure that they are unique and valuable.
SOLO | Meditation candle, designed by Lesse Studio
The world "SOLO" is an invitation to the true self, where everyone becomes himself. SOLO is a brand inspired by the element, the beauty of nature, ancient rituals, and meditation. They created solo candles, a guide to the true self. They create affordable, high-quality, scented candles.
Lesse is a branding design studio that creates unique designs for SOLO Brand. Studio based in Denpasar, Indonesia. They use creative and conscious ways to communicate with their audience and believe that thoughtful visuals can change the world.
Their clients are brands and projects worldwide, such as Leysan Tea, Silva Pink, Simari, Motter Cosmetic, Domum, and Allure.
NIMBA, designed by Karla Heredia
NIMBA is a unique candle company inspired by the star's magic. The company was founded by two women who create light from the fire, and each candle is identified with a zodiac sign, its scent, and its color.
NIMBA candles are handmade and soy-based, making them a high-quality and environmentally friendly option.
Karla Heredia is the designer for NIMBA's brand identity. She is a graphic and branding designer from Mexico. She has worked as an independent designer since June 2018 and has also worked for Futura, Antoni, and the welcome branding group. Her work focuses on branding, graphic design, and illustration. She works with Martius, Crack, Baking Nights, 3/92 Cafe, uHome, Terras, and Divine 3.
Soul-Scented Candles, designed by Natali Rodionova
Soul-Scented Candles is a luxury brand that creates stylish and cozy handmade candles with unique scents that bring back warm memories.
Candle jars are made from recycled bottled glass. All candles are hand-poured from 100% soy wax with the addition of premium quality natural fragrances.
Natali Rodionova is an incredible artist designer for the Soul-Scented Candles brand. She is based in the United Kingdom. She uses color and line to create vivid images. Her remarkable projects are the logo redesign of the Botanical Garden, Soire Noire clothing, Wave Dead Sea cosmetics, and Blue Forest Tales.
HERBULARYO, designed by Janelle Arriola
HERBULARYO is a candle brand that sells candles. They are 100% pure botanical soy candles and have a long-lasting scent. They offer various scents and are available in white and green glass jars.
Designer Janelle Arriola is a graphic designer from Manila. A highly skilled and experienced multimedia designer who has worked with some of the biggest brands in the world.
Cent, designed by Nicolas Galkowski
Cent is a master glassmaker and illustrator, a France-based candle company that mission is to bring buyers unique candles that tell a story. Each collection is custom-made and hand-poured, and each collection is ephemeral.
Nicolas Galkowski is the experienced illustrator designer for Cent's brand. Nicolas is based in Nantes, France, and has worked as a freelance illustrator and graphic designer since April 2016. From May 2014, he was the art director at Fly designs in France until April 2016. He has worked with plenty of the biggest brands in the world; some of them are Adobe Live, Les Echos, Monsters, Inktober 2019, Botanica, and Louie.
Moody Scented Candle, designed by IVORYHO Design
Moody scented Candles are a secondary product of the contact lens brand. They offer four different scented candles. They use only the best quality ingredients, and their scents are carefully chosen to create the perfect mood for any occasion.
Ivoryho Design is the designer studio for Moody Scented Candle's brand, based in Taipei. Their services include brand planning, packaging design, event visuals, web design, interior design, and photography.
They work closely with diverse industries and brands to create unique styles that blend in with their customer's attributes, including Moody Lens Container, Vim Tech, Moody 006, Eye Play, Cocoon, Happy Zoo, Dried Fruit, and Sanman Tea.
​​​​​​​Inné, designed by Riki Marley
Inné is a candle brand that sells unique, handmade candles with innate scents. The candles are made with 100 % natural ingredients, and the scents are chosen to be therapeutic and relaxing.
Their owner quickly realized that their candles were helping to create a calm and comfortable atmosphere for their friends and family and decided to start selling them. Inne candles have three varieties: foggy forest, sea breeze, and rocky peak.
Riki Marley is the Russian-based designer for​​​​​​​ Inné's brand. She is a creative graphic designer. She expresses herself through her work, and her passion for design shines through in everything she does.
Riki constantly explores new techniques and mediums with brands such as Stay Lettering, Logofolio vol 2, Booklet Andy Warhol, Calligraphy, and others.
Lumi, Clean Scandi Candle designed by Wildflower Design Co
Lumi, meaning "glow" is dedicated to illuminating your path to living a more peaceful life with their signature candles. Lumi is a brand of candles with the mission of helping you along the way. Their collection is inspired by serene moments. Their candles are vegan, cruelty-free, and sustainable.
Wildflower is the strategy-first, female-led designer studio for the Lumi brand, a wildly ambitious lifestyle, beauty, fashion, and wellness brand. The studio was founded by two women from the United Kingdom with a shared passion for creativity and entrepreneurship.
Wildflower has cultivated a reputation for producing stunning visual branding and communications for some of the world's most innovative companies, including Amber Home, The Positive Sleep Coach, Power up, Etta Rose, and Grace & Gold.
The White Boathouse, designed by Ceren Burcu Turkan
The White Boathouse is a lifestyle brand founded by two friends looking to create a beautiful restaurant alongside a great brand. The logo and packaging design inspired the little row of boathouses nested along the shore. It gives the brand a nautical feel that is clean and eye-catching.
They have launched six unique candles in handblown vessels. They've used all five boathouse illustrations on the packaging and wrapping paper design.
Ceren Burcu Turkan designs eye-catching packaging for The White Boathouse brand. Ceren is a graphic designer with over six years of experience. She specializes in creating unique, memorable designs that catch the eye and work well across all media. She has worked with small businesses and individuals to help them build their brand consistency; some of them are Caresse Tea, Klar Coffee Company, Grow Good Co, Oak & Still, and Pharus Training. 
SHIBUI, designed by Gosen Studio
SHIBUI is a brand that embodies the perfect balance of simplicity and complexity through its candles. Established in 2021, they create premium soy candles that are safe to burn. Each candle sold from Shibui is wicked, poured, and labeled by hand.
Gosen is a branding design studio that produces incredible designs for Shibui's brand identity. They are freelance graphic designers based in Jakarta, Indonesia, passionate about creating visual graphics and enjoy working on various design projects. Their work can be seen on his Instagram page, where they regularly post his latest creations. They work for numerous brands, including Cove Talent, Truvella, Authen, Joy, 100 Plus Caveman, and Koniri.
Serenita, designed by Lara Khoueiri
Serenita is an Italian word that means peace. Serenita candles are naturally handmade and made of 100% pure soy wax, an eco-friendly, renewable, sustainable, and carbon-neutral product. Their mission is to provide a serene atmosphere of relaxation.
Lara Khouieri is a France-based branding designer for Serenita. Lara Khoueiri is a senior graphic designer at Adcreators in Jbail, Lebanon; worked as a freelance graphic designer for Abjad design in the United Arab Emirates since 2013. Lara is passionate about pixels and print, and her work reflects her expertise in both fields. She also works with Bora Beera, Resaralda Cafe, Logofolio, and Croque Monsieur.
Charm Candle, designed by Choppy Agency
Charm Candle is a brand that sells candles. They are looking for ideas to make our valentine's day celebration as memorable as possible. Candles are the best method to create an atmosphere and appeal to the senses, even though chocolate and flowers are always appreciated. Because of their capacity to provide solace, quiet, and stress relief, candles have increased sales over the past year.
Choppy is a brand agency that works as a packaging designer for the Charm candle brand. They focus on graphic and web design globally, based in Baku, Azerbaijan.
Their experienced professionals strive to create beautiful and practical design solutions for their clients. Choppy design for many brands: Ballet Poster, Bagdan Redesign, Baku State Circus, Grace Joy, Zara Catalogue, and Turkish airlines.
Meanit Scented Candle, designed by Fergus Leung
Meanit scented candle is a unique candle brand. Their candles with ceramic textures and unique irregular lines on the cups show the oriental charm and cultural heritage. Their candles are made with high-quality ingredients and are hand-poured to ensure the perfect flame.
Fergus Studio is a product designer for the Meanit Scented Candle brand. Fergus studio is based in Suzhou, China, and was founded by Jing Veu in April 2021. He has worked with brands such as Bobbi Brown China and Sephora China for some projects. He specializes in packaging and product design. He also designs many brands, including the Cenxi skincare line, Meanit aromatherapy, Liyuan Blossom, Neyshis hand mask, and Neyshiis lipstick.
Magical Elegance, designed by Deonan One
Design, in general, has always incorporated minimalism. The brand was motivated by everyday items that most people overlook. Those things are often hidden behind spectacular beauty, subtlety, or even hints of magic.
Magical Elegance is a candle brand that sells minimalistic yet great-looking candles. Magical Elegance comes in three varieties, darkness, elegance, and haze.
Designer Mykhailo Liubnytskyi is a graphic designer from Ukraine born in 2002. He studied graphic design at the Ukrainian Humanitarian Institute and has been working as a freelancer since 2021.
He is a talented designer who knows how to work well in a team but often prefers to work alone for the best results. He also designs elegant packaging for Honey Toney.
Akari Scented Candles, designed by Jose Tovar
The brand Akari has devoted many years to discovering the most incredible and suitable essential oils and resources that would aid its consumers in finding comfort and calm through the candles that Akari offers. Akari candles are made with only the highest quality ingredients that bring more positive energy to their customers.
Jose Tovar is the scented candle designer for Akari's brand identity. He is a graphic designer focusing on brand visual identity and packaging from Medellin, Colombia. Jose has worked with brands such as Senses, Morningstar, and Nu.
India Rose Spa Water Candle, designed by Best Studio
India Rose is a local boutique that specializes in natural beauty and self-care. Their goal was to create a candle reminiscent of a relaxing spa day. The brand offers everything you need to relax and rejuvenate. The pastel color palette is soft and comfy, pairing perfectly with the candle's rosemary, mint, and citrus scents. They offer 100% hand-poured soy candles.
Best studio has designed the packaging for India Rose's Spa Water Candle brand. The studio has experienced designers who create beautiful and strategic brands from Vancouver, B.C. The studio was founded in 2018. With over 15 years of agency experience, the best studio provides tailored solutions for all your design needs. They design for many brands such as Lasagne Club, Merryjuana, Southside Beverage Co, Creo Stone's Business Card, Glenmore Valentine's print promo, Best Business Card, Steel and Oak Blush, and The Oaks.
The Green Chef, designed by Anastasiia Holub
The Green Chef is a candle brand that sells perfumed candles. The Green Chef brand launched a Christmas collection of vegan products. In the Christmas collection, the Green Chef presented two soy candles, such as grapes & sandalwood, and cinnamon & orange with magical aromas. 
Anastasiia Holub is the designer behind The Green Chef brand. She is a talented graphic designer from Ukraine and has a lot of experience in branding, packaging, advertising, and social media design.
Anastasiia's work is always professional and of high quality. She has worked with many brands Vegan Yogurt, Dance studio, advertising banners design for Laba Platform, Vagen Mochi, Christmas packaging design for Green Chef, Product Presentation Design for Yang Snack's promotions posters.
BLEND, designed by Sarah Johnston
BLEND is a luxury candle and diffuser brand that offers customers the unique opportunity to create their unique fragrance blends.
With six signature aromas to choose from, customers can pair two fragrances together to create a luxurious layered scent in their home.
Sarah Johnston is the designer for Blend brand identity and a businessperson with over 20 years of professional design experience. She has a successful record both in the creative and business worlds.
She worked for blend, and her work for the brands is an inspiration for newcomers such as Milieu, Naturals, Flwr, Silhouette Collection, Vibe, Dreams, Terra, and Volumes.
Magic Hour, designed by Morgan Paige Taitoko
The hour before the sun sets is known as the magic hour. The California desert inspires the warm sand & coconut candle from home fusion, and the candles come in terracotta ceramic in four different fragrances. They create a set with the matching diffuser and room spray. The sunlight geranium room spray is inspired by the California desert and comes in an amber glass bottle.
Morgan Paige Taitoko is the packaging designer for Magic Hour's brand. She is a graphic designer and artist from New Zealand. After studying creative technologies at WITT, she worked as a graphic designer in New Plymouth before becoming a freelancer in Auckland. She worked for brands The Station, Battler's Brew, Lush Products, Moonchild home fragrance, La Fleur, Luna, Rockey Sister Kitchen, Dream, Ritual, Lotus, and Into the Wild.
What Are the Processes Involved In Making DIY Scented Candles?
The supplies needed are listed below:
Wax used in candles

Glass jars with a heat resistance

Pot with a double boiler

Spatula made of silicone

Fragrance or essential oils

Wicks for candles

Chopsticks or wick-centering device

Trimmer for wicks
These are the steps:
Prepare Containers for Candles
When it comes to making candles, the first step is to choose a suitable vessel. You'll want to use a sturdy glass container that can withstand heat. We recommend using a 16-ounce Mason jar, but you can also repurpose an old candle jar.
Once you have your jars, ensure they're clean and dry before proceeding. Then, it's time to melt the wax. You can do this in a pot on the stove or in a microwave-safe bowl. Just be careful not to overheat the wax, as it can be dangerous.
Measure Wax
The materials for making candles can be purchased separately. However, it was most economical to buy a candle-making kit that contains all the wax, wicks, and wick-centering devices you'll need for a complete set of candles (more on these later!).
Moreover, this kit uses natural soy wax flakes that burn cleaner than many of the scented candles you will find at your local home improvement store. If you fill the container with wax flakes up to the level where you want the candle surface to begin, it is easy to determine the amount of wax you will need for each candle.
In a pot, pour the flakes and measure the same amount of bits again. It is necessary to use two containers of bits for each candle because the chips melt so much when they are melted down.
Melt Wax and Add Scent
Use a double boiler to melt the wax flakes once they have been measured. Using a silicone spatula, stir the chips slowly on top of a saucepan filled with water. (If you do not have one, use a metal bowl on top of a saucepan filled with water.)
Add 10-20 drops of essential oils once the wax completely melts. My 16-ounce candle consisted of 6 drops of eucalyptus oil and six drops of lavender oil.
Attach the Wick and Pour Wax
As soon as you have poured the candle, you will need to attach the wick to the bottom of the container to hold it in place.
Each wick is recommended to have a flat metal bottom; dip the metal part into the melted wax and place it in the center of the bottom of your container or jar.
Once the wax has hardened and the wick is standing up on its own, hold it in place until it has set completely.
After the wax has been heated, carefully remove it from the heat and pour it into your container. The wick centering device with the kit can be used to keep the wick in place if it becomes unstuck from the bottom of the pot. (This way, you can be sure that the wick is in the very center of the candle once the wax has hardened.)
You can also balance two chopsticks over the container to hold the wick in place if you use a wide container.
Let It Set
The wick of your candle will need to be trimmed once it has been fully set. The wick of any candle needs to be cut before it is burned, regardless of whether it is a store-bought candle! You can trim it with scissors, but it is much easier to do with a wick trimmer.
You are ready to burn your candle once the wick has been trimmed to about 14 inches from the top.
How can I Find the Proper Candle Packaging Manufacturer?
Luxury candles are everywhere these days. They come in all shapes and sizes, and there's a scent for everyone. But with so many choices on the market, how do you find the proper manufacturer for your needs?
And once you've found them, how do you ensure they use the best materials and candle containers? Here are a few tips to help you get started:
Consider Your Packaging Needs.
Luxury candles often come in beautiful glass jars or tins, so it's essential to find a manufacturer that offers high-quality custom boxes and packaging.
Ask about their materials and printing processes to ensure your candles arrive safely and look their best.
Consider Your Scent Options.
Many luxury candle manufacturers offer a wide range of scents, so take some time to browse their collections. If you have a specific scent in mind, ask if they provide it. If not, ask about custom scent options. Some manufacturers can create unique blends just for you.
Make Sure Your Packaging Is Eco-friendly
Kraft cardboard tube packaging is a popular eco-friendly option for candles. Metal molds with various diameters are used to create tube candles, which can be customized to suit your needs.
The kraft paper tubes can be packed in a plastic sheet or box made of corrugated or cardboard paper. The labels can be anything from permanent to long-lasting to temporary. The color alignment will positively impact choosing color matching or color contrast.
Don't Forget About The Price.
Luxury candles can be expensive, so be sure to compare prices from different manufacturers before making your final decision.
Keep in mind that the quality of the materials and the craftsmanship of the candles will affect the price, so choose wisely.
With some research, you're sure to find the perfect luxury candle manufacturer for your custom-printed boxes.
Which Are the Most Popular Scented Candle Brands in the Market?
Many brands are available in the world of scented candles, but none are created equal. The materials and scents used by some brands are of a lower quality, while the prices they charge are exorbitant.
You can choose from the following popular brands of scented candles to help you narrow down your options:
Otherland
Otherland candles come in beautiful packaging that is perfect for gifting or as a treat to yourself. The packaging includes a black or white box, a single candle or three-pack, and a matchbox with attractive options for saying thanks, wishing someone a happy birthday, and more.
You can also build a gift set with a black or white box, a single candle or three-pack, and a matchbox. The packaging materials used for these candles are of high quality, contributing to the luxurious feel of the product.
Thanks to their unique scents and beautiful packaging, Otherland candles make an excellent gift for any occasion. A holiday-themed packaging is one of those.
Bath & Body Works
Bath & Body Works has always been a go-to store for scented candles, but its recent branding update has made it stand out in the home fragrance category.
Thanks to its new line of three-wick candles in elegant glass jars, the store is now home to some of the market's most beautiful (and longest-lasting) candles.
And with scents like Strawberry Pound Cake, Champagne Toast, and Sunshine & Daffodils, there's sure to be a candle for everyone. Whether you're looking for a festive holiday scent or a summery fragrance for your kitchen, Bath & Body Works has you covered.
Diptyque
It's hard to go wrong with Diptyque candles when gifting or displaying high-end candles with intoxicating scents.
A high-end candle is synonymous with Diptyque, a French fragrance company. This brand's options are elegant, whether in terms of looks or smells, despite being pricey. You will receive compliments on the colorful glass and ceramic candle jars of classic favorites such as the Baies scent (they've long been my go-to housewarming gifts).  
With its annual limited-edition city candle collection, which usually sells out quickly, you can score decor-worthy candles with scents that will transport you to Tokyo or Berlin. Throughout the year, you'll also find limited-edition pop-ups.
Homesick
With Homesick, you will be transported back to a particular place through nostalgic candles.
You can enjoy the scent of a particular favorite location with Homesick candles, whether they are for yourself or a loved one. Many famous cities and countries are represented in the brand, along with fragrances based on each state of the United States.
Aromas are associated with specific times and memories, such as skiing, Friday Night Football, or grandma's cooking. Candles weigh 13.75 ounces and come in simple black-and-white glass jars.
Greentree Home
Whether you need tapers or tea lights, Greentree Home has a variety of simple and classic beeswax candles at an affordable price.
You don't have to get too fancy when choosing a candle for your candlestick holders or tea lights for a centerpiece. An array of colors and simple options are available at Greentree Home. 
The company designs and produces affordable, quality beeswax candles in the foothills of the Catskill Mountains. The company also has candles in unique shapes, such as pine cones, monkeys, and bottles, for those who want a little more fun.
Nest New York
Premium wax and stylish glass jars make these candles stand out.
Because their simple yet elegant glass holders match pretty much any decor, nest candles are great for placing on a mantle or table. In addition, they all come in attractive boxes, which makes them an excellent gift choice.
Your budget will determine whether you choose three-wick, minis, or classic single-wick candles. There are festive options like Holiday Classic, as well as complex aromas like Moroccan Amber, that are appropriate year-round.
Harlem Candle Co.
At Harlem Candle Company, you can find long-lasting candles infused with history.
A 12-ounce Harlem Candle Co. candle burns for up to 80 hours, but its accompanying backstory makes them unique. These candles are each named after a historical place or person related to Harlem, where they are manufactured. 
The Savoy candle highlights an iconic venue, such as the Savoy Ballroom. This fragrance brings to mind the glitzy nightlife scene, featuring blackcurrant, mandarin, green apple, juicy pear notes, Lily of the Valley, jasmine petals, and sandalwood.
With bergamot, cinnamon, sage, lavender, and crystalline amber fragrances, the Ellington candle honors the jazz legend. 
A collection of nightclub maps in gold tins, or 4-ounce candles that come in 4-ounce travel sizes, are also available.
Meyer's
You're familiar with the brand that makes hand soap and cleaning products but also makes candles that smell fresh.
Soaps and cleaning supplies are Mrs. Meyer's most well-known products. The brand also makes simple candles that will leave your home smelling fresh and clean. These candles cost under $10 and smell great, despite not having fancy packaging. You can also choose small tins with cute illustrations if you want something that looks a little nicer. 
After burning the candles, you can repurpose the glass jars using soy wax and vegetable wax. With scents such as Honeysuckle, Lemon Verbena, Basil Soy, and many more, you'll find the perfect scent for you.
Lafco
A standout favorite, these glass vessels are hand blown and contain premium ingredients.
Several colleagues told me Lafco was their favorite candle brand when I asked what they liked best. With 100% cotton wicks and vegan soy wax, these candles are made with chemical-free, premium ingredients.
Our office loves their gorgeous, hand-blown glass jars, which come in deep cerulean blue and shiny apple red. Whether decorating for the holiday season or just sprucing up your home office, these candles are sure to be a hit.  
Key Takeaways
Packaging ideas are needed for any business, especially if you are in the candle business. So, it does not matter if you are a wholesaler or a retailer wanting more sales for your candle business.
It would be best if you had aesthetically pleasing custom packaging for them. Here's what we have learned in this article:
The scented candle packaging design should be unique and attention-grabbing.

It is essential to find the proper manufacturer for your scented candles.

You can use different scented candle packaging ideas that are classy, fun, or both, which can be a great way to improve the ambiance of any room.

When choosing scented candles, it is essential to consider the ingredients used in the candles. Some scented candles are made with chemical-free ingredients, which are eco-friendly.

Some things to consider when choosing scented candle packaging include the wax used, the size and shape of the candle, and the fragrance.
Now that you know about scented candles and their packaging, it's time to start thinking about your brand. With a little hard work and creativity, you can create a stunning scented candle brand that will stand out from the competition!
Suggested Articles
5 Topics About Brand Identity
If you're interested to read more articles about unique brand identity and packaging design curated by ParoPop team, here are 5 topics we think you'll love!
Content by,
ParoPop Team