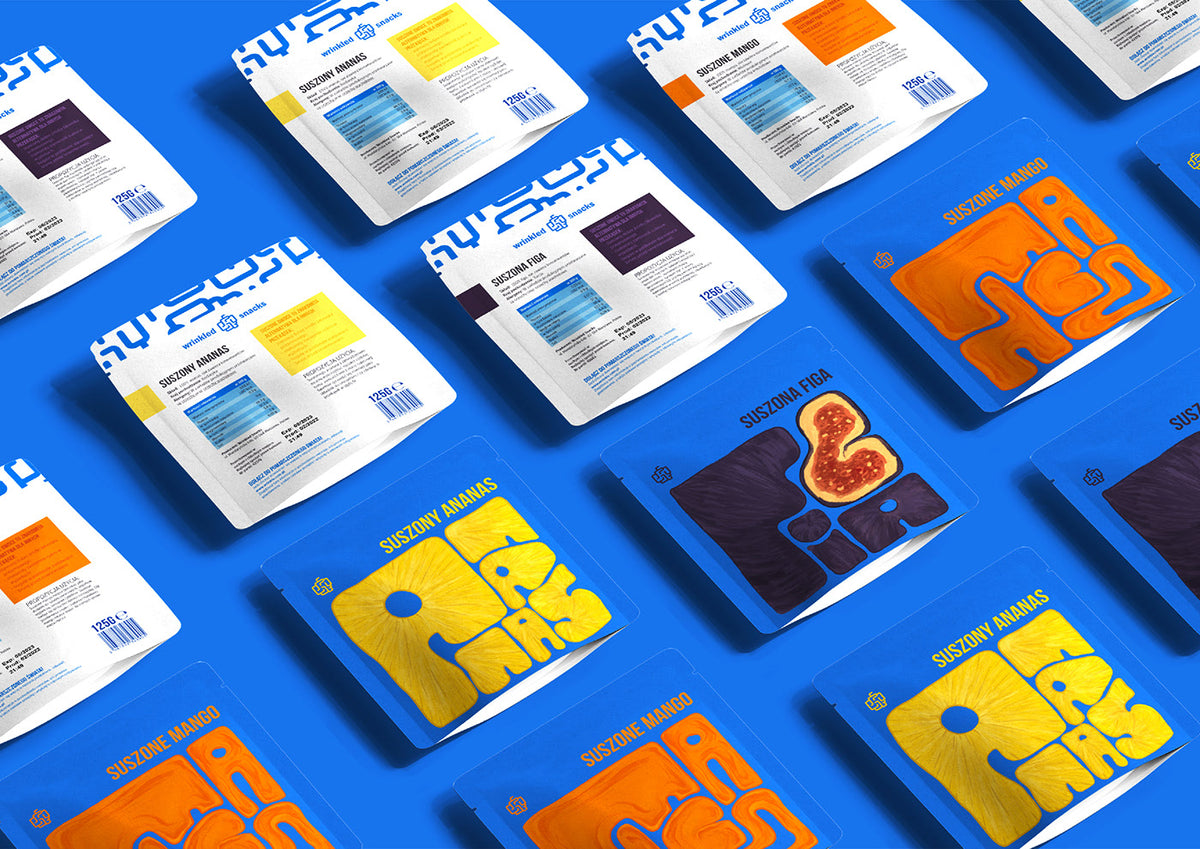 Snacking is one of the greatest joys in life. However, there's a dark side to packaging for snacks as well. Most snacks are cover in plastic packaging that is not eco-friendly. Moreover, these snack packaging bags and wrappers decompose naturally for hundreds of years, which can harm the environment if they aren't appropriately recycled or reused.
It seems like the environmental consciousness is raising its own voice to make changes to the world's every corner, whether you're looking for inspirations to be one of the snack-industry players, or as one of end consumers that cares about the environmental sustainability, let's get inspired by the amazing designs and motives we're going to talk about.
The Main Goal of Snack Packaging
People judge a book by its cover is never a news, the main goal of packaging for snacks is to present the products attractively as it is the essential to promoting a product, and unique design of packaging can definitely help the brand to stand out from the competition. The packaging should reflect the brand's identity and make it easy for customers to carry, open and close, clean and display on shelves, and many more.
You might need a professional designer who can create a model that meets all requirements with unique creativity to achieve all these goals.
Things You Should Know About Snack Packaging
Snack packaging ideas are an essential part of the process. Your packaging for snacks can decide between a good sale and a bad one, so it's critical to get it right. 
There are many snack packaging ideas, from custom-made boxes to more standard containers like cardboard boxes or plastic bags. Whatever your budget is, here are some tips for choosing the best type of packaging for snacks for your brand.
Customized Packaging for Snacks Can Be Expensive
If you have enough money in your budget and want something special for your brand, then investing in custom-made snack products may be best for your company's image at this point, you never know how long people will remember those little details! However, sometimes this might be worth it because branding is essential for today's business success.
If Allocating More Budget on Packaging is Never Your Option
Cardboard boxes look cheap, but they're also affordable and easy to access if you need extra supplies on short notice (especially true when ordering online). Plus, there are many colors available too, which means each new batch could look different than any others before them--great feature when trying out new recipes!
The Ultimate Guide to Eco-Friendly Snack Packaging
Packaging for snacks is a crucial part of your business. It has to be appealing and functional, but it also needs to be eco-friendly. Here are some options for packaging that are good for the environment.
Compostable Packaging
Compostable packaging means that the material can be broken down by microorganisms (such as bacteria) into organic materials like carbon dioxide, water, inorganic compounds, and biomass within months or years.
You might have seen this package at farmers' markets or outdoor events where there's no trash collection service - they're usually made from corn starch or recycle paper pulp rather than petroleum-based plastics like PET plastic bottles or food-grade aluminum cans.
Recyclable Packaging
Recyclable packaging means the material can be recycled repeatedly without losing quality (e.g., using virgin materials). Most types of plastic are recyclable; however, some styles may not be accepted by all recycling centers due to contamination issues (e.g., colored plastic mixed with clear plastic).
So check with your local recycling center before purchasing these kinds of snack packs, so you know what they'll accept.
What are the Benefits of Being an Eco-Friendly Brand?
There are several benefits to having eco-friendly packaging for snacks. For one thing, it can help you stand out from your competitors. Therefore your customers will know that you care about the planet, so they'll be more likely to buy your products than other brands.
In addition, eco-friendly packaging for snacks is better for the environment than traditional materials like plastic and metal. Moreover, These materials take thousands of years to decompose and don't break down into harmless substances like water or carbon dioxide like paper.
17 Talented Designers & Their Creatively Designed Snack Packaging
Amelie Vaillancourt is a student of the University of Queensland's School of Design, where she honed her skills in the conceptualization and the expressive potential of visual media. Her strength is in identifying what is most important to her customers and then translating it into completely tailored, innovative meals that she spices up with her unique flair.
She designed for la collation, where she design packaging for snacks. It is a butt-based snack. The logo is drawn in a humorous artistic manner. The organic forms, flat colors, and mouth-watering landscapes are all shown using an illustration approach.
DY.W is a graphic designer from China, and he is the designer behind the snack packaging of the prawn crackers.
The logo illustration shows some delicious and spicy crackers, he uniquely designed this snack packaging by using photoshop.
Dogie Brands is a design studio from brazil. They offer custom candy packaging and snack packaging and they designed for Nano Brownie.
Nano Brownie is a brand of brownies that came up as a result of research into the chocolate snack industry. They're like sweets but baked from brownie batter and loaded with delicious ingredients.
The concept of these designs is that they keep your snacks tasting as good as they were when they came out of the oven.
Marco Arroyo is a graphic designer from Spain. He designed packaging for the Volare sunflower seed brand, with their many shades of grey and distinctive form, prompted him to pair up with a feather.
This eye-catching diagram is based on a complete visual image: the connection between feathers and pipes. 
Alphabet Design Agency is a design agency located in Manchester, United Kingdom. They have designed for British Luxury Department Store Harvey Nichols.
The design concept is the high-end chocolate bar with the most understated packaging yet managed to carry a powerful impact. They made abstract color and pattern experiments with various textures to symbolize the many chocolate flavors available at Harvey Nichols.
Design Womb is an American graphic agency that designed snack packaging for Basic Bits. By blending completely, the premium quality ingredients becomes craving-able raw snack balls Basic Bits is taking nutrition back to fundamentals.
The concept of the design is they created a clean and unambiguous visual identity, and the packaging is straightforward, so you always have a picture of what's inside.
The "Back to Basics" philosophy is bolstered by our decision to debut with a monochromatic color scheme. The company's beneficial probiotic snack ball expansion range has a new secondary color scheme.
Eda Rada is a graphic designer from Australia. She created the snack packaging for XXO Crackers.
The idea of the snack packaging is a uniquely designed white box with XO-shaped crackers and instructions for playing the XO game on the other side of the box.
Krunch's custom-made snack boxes. Utix Grapix is a studio focusing on the label, package branding, and visual communication. They have done an excellent job at spreading the word about the company via their design.
Sergei ASVIDES is a graphic studio from Russia, they have a design for Silvestri, a pistacia brand.
As you can see that this has such a premium feel to it, even with that lighthearted logo. The design concept is to show the brand's uniqueness.
Eryka Rakoczy is a graphic designer from Poland. She designed packaging for snacks of Wrinkled. 
Personalized pictures are composed in the format based on associations of fruit forms and colors rather than direct presentation, and the resulting uneven letters require you to keep them in place. They maintain a clean and uncluttered layout throughout.
Vera De La Asunción is a graphic designer from Spain, he designed it for PATATAS GOURMET.
As you can see below, the packaging design is stylish and uncluttered.
Studio 9527 is a graphic studio based in China. The concept of the design is that Japanese snacks are delicious baked treats that are as good for you as they are to eat.
Andrea Pineda is a graphic designer from Canada, he designed packaging for the Good Choice. The idea of the packaging design is that when you're hungry but can't quite put your finger on what you want to eat, and when you can't decide between many options but have a general idea of what you'd wish to do, Good Choice may help narrow down your options.
Gosia Kepka is a graphic designer currently based in Glasgow, Scotland. He designed for Vegan Chocolate. 
The Vegan Chocolate's packaging is meant to communicate the purity and wholesomeness of their product. A simple, clean design was chosen to highlight the purity of their product by keeping it out of sight.
The front of their package shows a slice of Vegan Chocolate's name in place of a picture, which serves as its advertisement. The term is design to be eye-catching and inviting while still being simple enough to apply to any packaging without looking out of place.
Widarto Impact is a small branding & design agency. They designed packaging for snacks with chips to go, the design of the snack packaging of chips to go is excellent.
The packaging also has a small picture showing what kind of chips are inside and what flavor they are. This helps customers know what they're looking at before they look at them =D
Jo Cutri Studio is a multi-discipline design studio in Melbourne, Australia.
The design concept includes a color-coded system for indicating what kind of seeds are in each package, which can help people who have difficulty reading labels.
Regarding packaging for snacks, Formascope Agency takes a more conceptual approach than most other studios. They conceive it as a means of cultivating uncooked, dry fruits. Pollination, fertilization, growth, development, and ripening are the phases in transforming a flower into a fruit.
Moreover, the natural flower-to-fruit progression demonstrated that the product is organic, premium, and chemical-free. Inside the snack packaging lies the precursor to the next phase of the procedure, drying the fruit.
Raw Grow will utilize as the brand's official name. Raw refers to an unprocessed or unaltered form. To clarify, "Raw Grow" refers to a cultivation method that does not include the use of any synthetic or chemical inputs.
Conclusion
I hope this guide has helped you with an overview of what makes good packaging for snacks. You must consider many factors and ensure that your brand stands out from its competitors. There are many ways to do this, but the most important thing is to keep looking at new ideas and trying new things until something clicks!
Do you have any snack brands' packaging that is remarkable to you? Or any snack brands that attracted you by their packaging design in the first place? Feel free to share with us in the comment section below!
Relatable Articles
5 Topics About Brand Identity
If you're interested to read more articles about unique brand identity and packaging design curated by ParoPop team, here are 5 topics we think you'll love!
Content by,
ParoPop Team