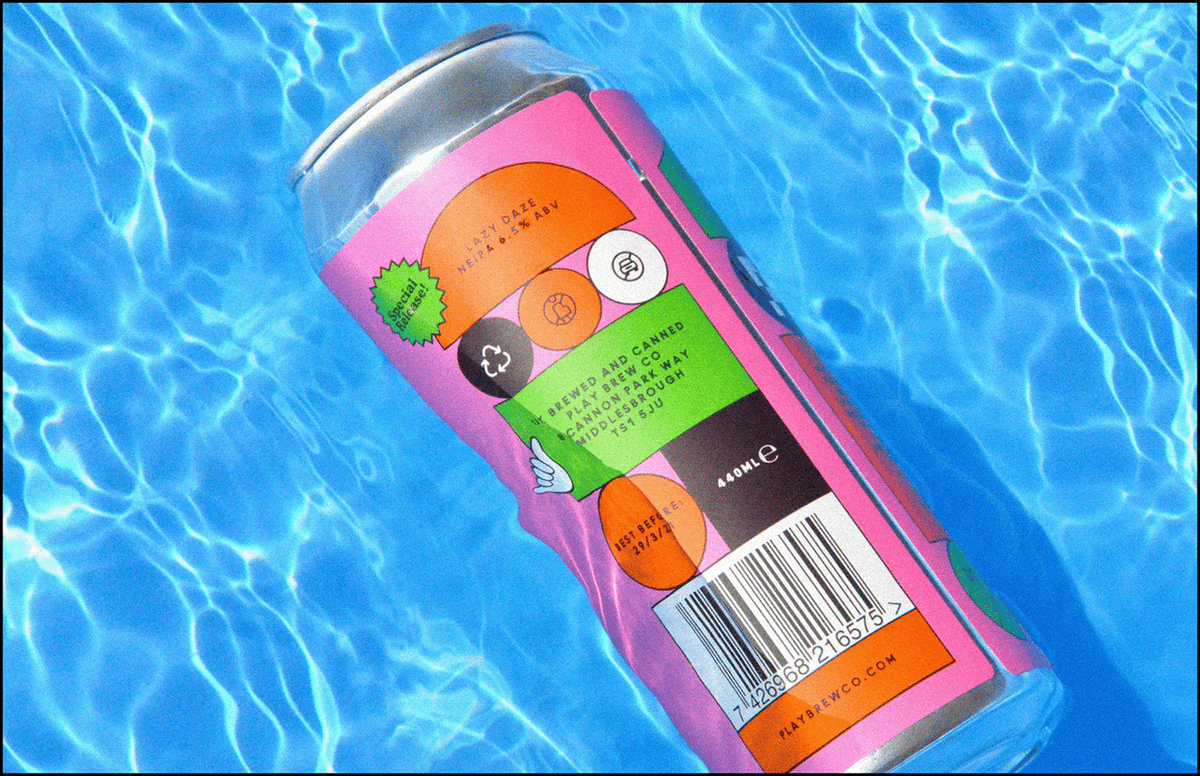 Brewers today work hard to develop exciting products with unique tastes and flavors. The marketers build the identity around the brand and the innovative taste they are offering for consumption.
However, when it comes to packaging, it's often overlooked. Little did they know, packaging of beer plays a vital role in reflecting the brand with matchless design, cohesive colors, and impeccable images.
Crafting excellent packaging is as important as brewing a fascinating delicious beer! The beer packaging designs are a great way to grab the attention of the customers at retail stores and online. It even highlights a brand in an over-saturated market, helping brands to excel in the game of marketing.
Design is Almost Everything!
When it comes to beer packaging, the design is almost as important as the delicious beer itself!
More than 3,000 breweries in the United States produce nearly 30,000 beers with different tastes. Just imagine a shelf with 30,000 unique beers – such a crowded space! To get highlighted and stand out from the competitors, brands must develop innovative ideas. It is where the concept of packaging kicks in.
With beer can packaging, the brands can upgrade themselves from being a simple plain one to premium-looking products. Craft beer packaging is not just a process of adding technical and marketing innovation to your beer product. It also helps in augmented sales and revenue generation by grabbing customer's attention.
Craft Beer Packaging

Design Trends
It is becoming hard for beer brands to get noticed on the shelves due to evolving demands of consumers. It directly impacts the sales and existence of the craft beer industry itself. So, we have identified some exciting and impressive packaging trends that catch the eyes of the customers.
Maximalist Design – These designs burst with colors and sneaky illustrations, giving off attitude vibes.


Recipe Style Design – Such designs reflect the brand with the ingredients and their association with the taste.


Minimalistic Design – Sophisticated and elegant yet creative designs to leave the customers intrigued to know more.


Typographic Design – To enlighten the essence of the brand, designers use type over graphical images.


Flavor Differentiation Design – Distinguishing the flavors through innovative colors or characters to associate with them.


Photographic Design – Creating a thoughtful view through digital printing capabilities, ensuring an ever-lasting impression.


Dark Label Design – Use of powerful dark colors, significantly black, to give a feel of premium with a touch of sinister look.


Colorful Design – Bold, bright, and brave use of colors, resonating the brand image with prominence.


Vintage Design – Idealizing the past with a vintage design, paying homage to beautiful and nostalgic history.
40 Ingenious

Craft Beer Packaging

Design Brands
Are you looking for some inspiration to craft some incredible packaging design for your beer brand? Here are the 40 best beer packaging concepts that will help you with your thought process.
1. MESA, designed by Jjveroni
The designer of craft beer "Mesa" is Jjveroni from Minsk, Belarus. It is a maximalist design, showing the colorful side of the brand.
The design depicts attitude and class with bold illustrations, setting it apart from conventional beer packaging.
2. Labietis Brewery, designed by Kristine Kalva
Designer Kristine Kalva from Vancouver, British Columbia, Canada, chooses the vintage design for the packaging of beer. Labietis is one of the craft breweries based in Riga, Latvia.
The beer branding depicts the past of a glorious leader from the Baltic tribe dated from the 13th century, known for his strength. Labietis pays homage to his authority by crafting a powerful design.
3. Baubeer, designed by Taras L
With an inventive design, Taras L, the designer, tried to empower the brand by associating it with the glorious Bauhaus style. He is from California, United States. Baubeer is also a vintage design inspired by the Bauhaus style logo. The designer has redesigned the concept, conveying the original style of Bauhaus architectural design, combining the past with the present.
The Alphabet Design Agency from Manchester, United Kingdom, is the designer of Play Brew Co. The agency offers services from brand creation to brand implementation and deployment with creativity.
It is a playful craft beer bottle design for Play Brew Co, where the designer chose a complex combination of maximalist, flavor differentiation, and recipe style design. Every flavor has different characters, giving off bold vibes through trendy illustrations.
5. Pabst Blue Ribbon Beer, designed by Agata Lučić
A unique beer can packaging by the designer Agata Lučić from Zagreb, Croatia. The designer used photographic design to create a scenic view through digital printing capabilities. There is style and uniqueness to attract the attention of consumers.
SOMA Brewing features a distinctive typography design designed by Quim Marin Studio from Barcelona, Spain. It's a freelance studio creating challenging patterns and distinguishable illustrations.
For SOMA Brewing's design, the studio opted for type instead of graphics, matching the typography of the brand name. The unique use of numbers on the packaging enlightens the essence of the brand.
Inspired by Aesop's Fables, the SOUL Creative Agency from Athens, Greece, designed a mesmerizing label for the brand. The agency focuses on branding, UI, and UX packaging.
For Aesop's Beers, the designer chooses a combination of vintage and dark label designs. The bold blackness of the packaging depicts a premium artistic feel, where the vintage design praises the authentic style of fables.
Luis Utrillas designed craft beer "Ababol" from Barcelona, Spain. Ababol features a minimalistic design, covering the authenticity and creativity of the brand with prominence. The exquisite packaging allows the brand to distinguish on the saturated beer shelf easily.
Talk about brilliance and creativity at its peak! Not Perfect Vilnius designed Raudonu Plytu's branding, an excellent craft beer packaging from Vilnius, Lithuania. The studio is known for producing strategic designs that craft highly graphical images.
The brand features a flavor differentiation design, where the theme of different characteristics gives an elegant feel of perfection. Each attribute narrates a unique and different story, captivating the interest of the beer consumers.
The brand Hay Joe is designed by Polkadot Design from Athens, Greece. They are an illustration and design studio, crafting emotionally engaging visuals.
The designer chose a combination of vintage and minimalistic design to leave the beer lovers intrigued. With compelling packaging, the design reference traditional folk style with a touch of creativity, wrapped in sophistication for the target audience.
11. The Cellar Jams, designed by Polkadot Design
Polkadot Design comes back with an exquisite brand design for The Cellar Jams. It is an illustration and design studio from Athens, Greece, crafting ingenious designs to connect with the audience.
The designer has used a flavor differentiation design style, using characters to highlight the brand. The Cellar Jams are also available in black packaging, depicting the dark label design to invoke a feeling of premium.
12. Spell Beer, designed by Julia Jay
Julia Jay has wonderfully captured the theme of Spell Beer. She is from Kyiv, Ukraine.
The theme she used is typography design, using the boldness of the logo as an innovative packaging style.
Coloro Brewing is a fascinating craft beer packaging example designed by Maksimas Remniovas from London, United Kingdom. It is a premium beer can packaging following the theme of minimalistic design with elegant illustrations.
14. Brandsummit 7th beer, designed by Brandsummit Studio
Brandsummit Studio from Valencia, Spain, designed the brand packaging. They are premium beer packaging designers.
The Brandsummit 7th Beer is a celebration edition from the brand, celebrating its 7th year of existence.
Instead of going with different colors and themes, they choose a minimalistic and photographic design to keep everything fun yet subtle, not shifting the focus from their brand image.
Brandsummit Studio designs Y Punto Beer's packaging. They are a beer branding designing agency operating from Valencia, Spain.
The bottle design is simple, elegant, and sophisticated. The brand is known for its minimalistic designs that set it apart from funky-colored competitors.
Kelsen Findlay from Sydney, Australia, designs the DNA Beer packaging. The designer is from Common Studios, which is famous for the latest web technologies and innovative designs.
For the packaging design of DNA, the designer came up with a photographic technique depicting waveform as the identity of the beer. The packaging follows the core image of the brand association with music.
17. The Fitzgerald, designed by Pedro Oyarbide
The Fitzgerald is a craft beer packaging by Pedro Oyarbide from Madrid, Spain. It's a beautiful typography design where the designer uses words to make a design. He ditched the conventional images and illustrations and used type to differentiate the brand.
Snask Stockholm from Stockholm, Sweden, designed the mesmerizing Shower Beer packaging. Snask is a creative agency crafting enchanting graphical illustrations for different brands and products.
The designer chose a typography design to ensure simplicity across the packaging. The real motto of the packaging for Shower Beer is to promise long-lasting taste without distraction.
19. LE Ketch, designed by Billyclub
Billyclub designs LE Ketch beer can packaging from Montreal, Quebec, Canada. It is an independent creative studio to give visual identities to brands across multiple domains.
The designer ensured a minimalistic design followed by a colorful design approach. The packaging features bold use of colors and nifty illustrations and gives a phenomenal vibe of attitude.
20. Sisneypa Pale Ale, designed by Natalia Pawlak
Natalia Pawlak creatively designed Sisneypa Pale Ale packaging of beer from Poznań, Poland. The designer used flavor differentiation design, creatively using different characters to distinguish each flavor and taste of the beer.
21. Silo Beer, designed by Caserne
The Silo Beer packaging is designed by Caserne, a well-known studio known for its design-centric, bold, and relevant design. Caserne is from Montréal, Canada.
The designer has used a combination of typography with minimalistic design, conveying the brand message with elegance.
Orkestra Marketing from Gatineau, Quebec, Canada has designed the packaging for La Tissée Serrée. Orkestra is a digital agency for content marketing, creative advertising, branding, experiential and stunts, and video production.
The theme of maximalist designing is beautifully used in La Tissée Serrée. There are colorful illustrations to bind the brand image with the beer packaging.
23. La Châouette, designed by Dylan Nowak
Dylan Nowak's craft beer packaging for La Châouette is appealing and mesmerizing. The designer is from Nancy, France. It's a vintage design, referencing the past's Germanic culture and traditional values.
24. Wildes Saison, designed by Libby Connolly
Libby Connolly is the designer of Wildes Saison, an independent brand designer from Portland, ME, USA. She is best regarded for her appealing intersection of art, culture, and beauty.
Wildes Saison features a recipe style and minimalistic design theme, where each flavor has a dedicated recipe design followed by an elegant presentation.
25. KEMPING Brewery, designed by Boglárka Salamon
From Hungary, Boglárka Salamon sets an example of intuitive and bold designs for beer packaging.
Boglárka has used minimalistic design, featured bold illustrations and sneaky patterns, and set a dynamic attitude.
26. Falken, designed by Stamp Works
Stamp Works from Okayama, Japan, designed Falken beer packaging. It features a photographic design theme with a digital impression of a building in a uniform color pattern.
27. Roomies Beer, designed by Jack Forrest
Jack Forrest from Universal Favorite is a designer and illustrator based in Sydney, Australia. The Roomies Beer features a graphic design with a bold and trendy color palette to help distinguish the brand from others.
28. Totem, designed by Hello Brand
Hello Brand craftily designed the Totem beer packaging. It is an agency based in Córdoba, Argentina, popular for creating illustrations that keep to the audience.
The packaging has a minimalistic design, covering the brand with elegance and sophistication while brilliantly connecting it to its brand image.
Famous for virtual photography, VFX, animation, and digital magic, Where Giants Roam from Aberdour, United Kingdom, has designed the packaging.
Talea Beer Co. features a colorful design with a bright and brave choice of color contrasts, making it highly distinguishable in the saturated market.
Jarosław Dziubek from Warsaw, Poland, is the mind behind craft beer packaging for Isla del Sol.
The packaging features a minimalistic recipe-style design, covering the ingredients as images with a decluttered illustration.
31. MT Brewing Co. Beers, designed by Magnus Tenold
The visual identity designer, Magnus Tenold from Bergen, Norway, is the mind behind the packaging of beer. It's a minimalistic design followed by a recipe style design, covering each beer ingredient as a versatile image.
32. Steel & Oak, designed by Best Studio
Best Studio is a boutique branding and packaging studio located in Vancouver, British Columbia, Canada. The packaging revolves around minimalistic design with beautiful patterns for beer can packaging.
33. Tim Boelaars, designed by Tim Boelaars
Tim Boelaars is himself the designer for their beer packaging. Tim is an illustrator, art director, and graphics artist in Amsterdam, Netherlands.
The cans feature maximalists and colorful designs, featuring bold illustrations and bright colors.
Aida Airapetian from Bali, Indonesia is the designer behind craft beer brand JOYPARTY. She provides design services for product packaging, corporate design, branding art direction, and illustrator. 
From Valencia, Spain, Guillermo Sacristán designed the exclusive beer packaging.
Cervezas Tyris is a typography-based design with energetic use of type instead of conventional images.
36. Henquet Brewery, designed by Thomas Garaventa
Thomas Garaventa from Alessandria, Italy, is the mind behind craft beer packaging. The beer can feature a typography design with color variation for different flavors.
37. Slow Lane Brewing, designed by Ben in Motion
Ben in Motion is the mind behind Slow Lane Brewing design from New York, USA. The packaging features a typography-based design with minimalistic imaging for a unique perspective.
Freelance graphic designer and illustrator Mathilde Filippi from Montreal, Quebec, Canada, has designed the beer packaging.
It revolves around maximalist and flavor differentiation design featuring bold and provoking illustrations with different characters.
39. Battler's Brew, designed by Morgan Paige
Morgan Paige is known for branding, packaging, and graphic designs. Her Battler's Brew beer packaging features photographic design, keeping the brand highlighted.
40. MOVA Brewing Co, designed by Ilona Martynenko
From Kiel, Germany, Ilona Martynenko has beautifully designed the packaging of beer.
MOVA Brewing Co. features a colorful and recipe-style design, where every ingredient is crafted magnificently.
Wrapping Up
Craft beer packaging is a creative and innovative way to introduce a new brand to the market that gets noticed instantly. The world is no more interested in dull and unimaginative designs that don't appeal to their eyes. The more your brand appeals to them, the better your chance of getting noticed.
What we have learned so far is:

Design is everything as tedious packaging doesn't sell anymore.

A beer shelf is already crowded with thousands of brands; the packaging helps customers notice you.
There are 9 different types of packaging trends that distinguish a brand from another, namely:
Maximalist Design
Recipe Style Design
Minimalistic Design
Typographic Design
Flavor Differentiation Design
Photographic Design
Dark Label Design
Colorful Design
Vintage Design
In a nutshell, the more creative, authentic, and inventive you are with your beer packaging, the better your chance to sell, increase sales, and earn profits. Dull, boring, and uninspiring designs tend to tire the customers and avoid them even if they are less costly.
Suggested Articles:
5 Topics About Brand Identity
If you're interested to read more articles about unique brand identity and packaging design curated by ParoPop team, here are 5 topics we think you'll love!
Content by,
ParoPop Team