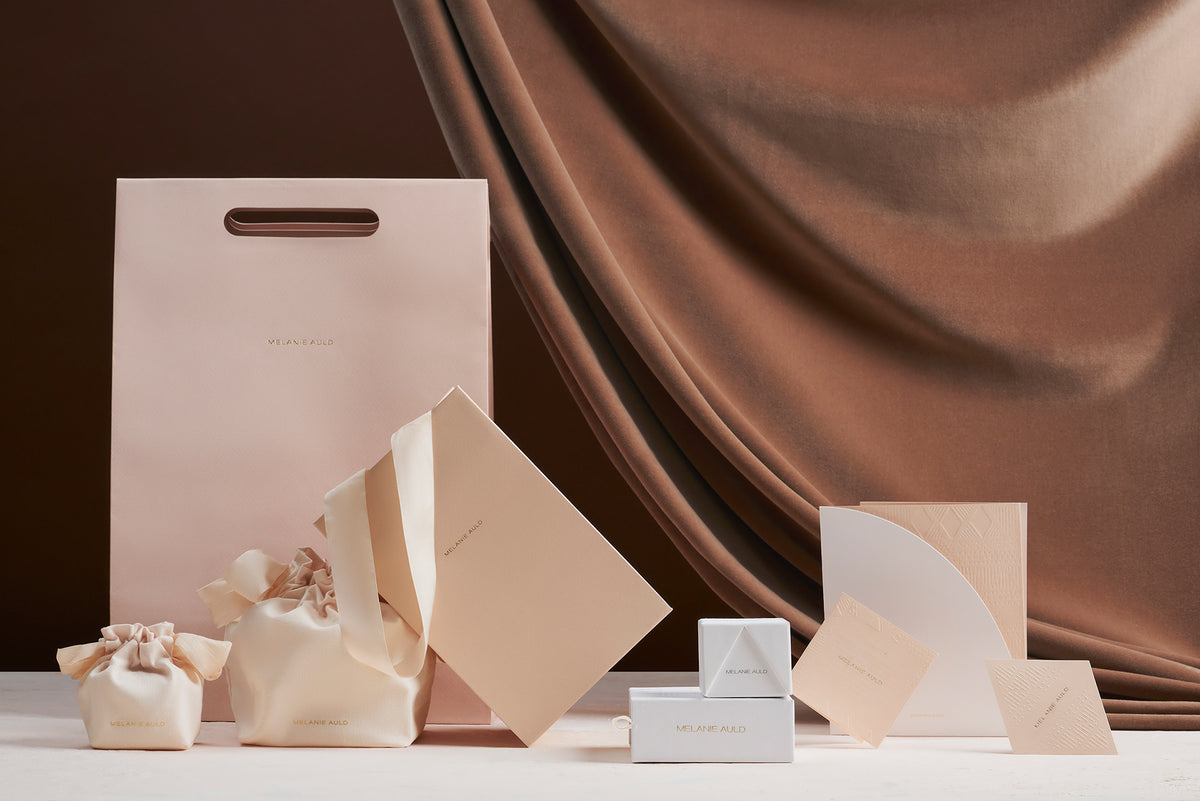 If you're starting a jewelry brand, it's important to consider your packaging options. Eco-friendly jewelry packaging is becoming more and more popular, and for a good reason. Eco-friendly packaging is good for the environment and can also help set your brand apart from the competition.
Now let's discuss some benefits of eco-friendly packaging and tips on choosing the right packaging for your brand. Also, we will discuss 17 brand design inspirations. So, keep reading!
What Makes Packaging Recyclable?
Most eco-friendly jewelry packaging is made from recycled materials. This means it can be recycled again after you're done with it. Recycled materials are good for the environment because they don't require new resources.
They also often use less energy and water to recycle than it takes to create new products from scratch.
What Makes Packaging Jewelry Sustainable and Eco-friendly?
Custom jewelry packaging helps to reduce waste and protect the environment. When you order custom packaging, you can specify the packaging's size, shape, and material to ensure it is just right for your product.
This reduces the amount of material that is wasted in the production process. Custom packaging is also made from sustainable materials, such as recycled paper and cardboard. And because it is made to order, there is no need for extra packaging, plastic free such as a plastic wrap or bubble wrap.
As a result, custom jewelry packaging is a sustainable and eco-friendly solution for jewelry retailers.
What Material Options for Sustainable Jewelry Packaging?
There are a variety of sustainable materials that can be used for jewelry packaging. Recycled paper and cardboard are the most popular options. Other sustainable materials include bamboo, hemp, and jute.
These materials are biodegradable and will not add to the landfill problem. And because they are natural materials, they are environmentally friendly.
Some sustainable packaging options include:
Hemp

Bamboo

Recycled paper

Eco-friendly plastics
These are just a few of the many sustainable packaging materials available today. When you're looking for sustainable jewelry packaging, make sure to ask your supplier about their eco-friendly options.
Many companies are happy to offer sustainable packaging at an additional cost. However, it's important to ensure that your packaging is Eco-friendly. Some companies claim to offer Eco-friendly packaging but don't use sustainable materials.
What Printing Methods Can I Use For My Custom Jewelry Packaging?
There are a variety of printing methods that can be used for custom jewelry packaging. The most popular method is digital printing. This method uses inkjet or laser printers to print your design onto the Packaging material. Digital printing is a quick and easy way to get your design onto the packaging material with no minimum order quantity.
Other printing methods include screen printing, hot foil stamping, and embossing. These methods are more suitable for larger orders.
How Can I Make My Custom Jewelry Packaging Stand Out?
There are a few ways to make your jewelry packaging stand out. One way is to use a unique shape or size for your packaging. Another way is to use a special finish, such as gloss or matte Lamination, spot UV, or foil stamping.
These finishes will give your packaging a high-end look that will make your brand stand out from the competition.
What Are The Benefits of Being a Sustainable Brand In The Modern Market?
The benefits of being a sustainable brand are numerous:
It shows that you care about the environment and are committed to reducing your impact on the planet by creating eco-friendly jewelry packaging.
Sustainable brands are seen as responsible and environmentally conscious. As a result, they often enjoy higher levels of customer loyalty.
It sets you apart from other brands that are not eco-friendly. This can attract new customers who are looking for sustainable products.
This packaging can help you save money in the long run by reducing waste and lowering your production costs.
19 Brands of Beautifully Designed Eco-Friendly Jewelry Packaging
Now we will take a look at 17 eye-catching brands of jewelry packaging. From unique concepts to elegant designs, these brands have created packages that will wow you and your customers!
Since we are discussing how to decide what would be the most eco-friendly jewelry packaging method, here are some examples to get inspiration from.
1. Melie Jewelry
Branding designed by Cansu Merdamert, a design studio based in London. The design studio specializes in branding and packaging design. Their primary fields of design are logo design, brand identity, and packaging design.
In addition that is worth mentioning, they have won numerous awards for their innovative designs!
2. Edge of Ember
Designed by Forner Studio, a sustainable packaging design studio based in Los Angeles, USA. Forner Studio's packaging design concept uses eco-friendly materials and techniques to create beautiful and sustainable packaging for jewelry brands.
Forner Studio's eco-friendly packaging solutions include using recycled paper, eco-friendly inks and dyes, and biodegradable materials.
3. Gung Jewellery
Gung Jewellery, a demi-fine jewelry brand founded by Yinn Ooi, an interior and jewelry designer who graduated from RMIT Melbourne. The latest packaging of Gung Jewellery 3.0 is designed by Where's Gut Studio.
Where's Gut Studio is a sustainable jewelry packaging design studio based in Kuala Lumpur. Magdalene Wong founded the studio. Sustainable packaging is at the heart of their design philosophy.
Their signature packaging includes jewelry box, linen pouch, jewelry holder card and more that are made from recycled materials and is designed to be reusable or recyclable for their wide range of collections such as earrings, bracelets, necklaces, rings and even anklets.
Their goal is to create beautiful, sustainable packaging that helps reduce the environmental impact of the jewelry industry.
4. Runda Jewellery
5. Selin Kent
The packaging of Runda Jewellery & Selin Kent are designed by Studio Born, a Turkish-based design studio that specializes in custom jewelry packaging.
The studio's philosophy is that jewelry should be treated as a work of art, and each piece of packaging is designed to reflect that.
The clean and eco-friendly jewelry packaging is elegant and understated, allowing the jewelry to shine. All of the packaging of this collection is made with sustainable materials.
6. Elhanati
Meet the sustainable jewelry packaging designer, Homework Creative Studio. They are based in Denmark, and their design concept is all about being sustainable and modern.
All of their packaging is made from recycled or sustainable materials, and their goal is to help reduce the amount of waste that goes into landfills each year.
7. Melanie Auld Jewelry
Arithmetic is the jewelry packaging design studio behind the brand Melanie Auld Jewelry. Arithmetic design studio is based in Vancouver, British Columbia, Canada. They offer creative direction, styling, photography, and production services worldwide.
Arithmetic is inspired by geometry, architecture, and nature. Their goal is to create simple, elegant designs that are both functional and beautiful. Arithmetic's jewelry packaging is known for its clean lines and minimalist aesthetic.
8. Miné Jewelry
Pánico Estudio is a custom jewelry packaging company based in Ecuador and Spain. The company's philosophy is that every piece of jewelry is unique and thus deserves its custom-designed packaging.
Pánico Estudio is an award-winning branding studio. They have project around the world such as Saudi Arabia, Qatar, Thailand, Canada, Ecuador, Colombia, Argentina, USA, Spain and many more.
9. Apostrof
Citrus by Gila Afya is a branding and packaging design studio behind jewelry brand Apostrof. The design studio offers unique, handmade, and eco-friendly jewelry packaging. The brand is the brainchild of Gila Afya, a designer based in her home country of Mexico.
Citrus by Gila Afya has already designed for clients from Mexico, Turkey, Israel, Netherlands, USA, Spain, Azarbaijan and England, from little start-ups to global businesses.
10. Chow Tai Fook - Token of Friendship Jewellery
Designed by Noiseless Design Studio, it is based in the Hong Kong SAR of China, and its packaging concept is centered around using eco-friendly, recyclable and reusable materials.
In addition to helping to reduce environmental waste, their packaging also features unique designs that are eye-catching and stylish. 
Their goal is to help change how people think about eco-friendly jewelry packaging and show that it can be both stylish and sustainable.
11. Rock Jewelry
Rock Jewelry is designed by Viktoria Grankina who launched her eponymous design studio in 2018 and it is based in Ukraine.
Viktoria Grankina has over 5 years of experience as a graphic designer, commercial brand designer, print layout designer, packaging designer, and web designer.
Viktoria Grankina has helped numerous companies locally and internationally, to develop their business and make their brand recognizable. 
12. TOONE
Mok E is the designer behind jewelry brand TOONE. Mok E is a graphic designer and illustrator based in Cheng Du, China. She used eco-friendly and sustainable materials with innovative design concepts to create beautiful and unique branding.
The studio's designs are influenced by nature, and each piece is carefully crafted to protect the delicate balance of our ecosystem.
13. MISSSOHN
The branding of jewelry brand MISSOHN is designed by Be.Basedon.Brand, a contemporary design brand based in Seoul, Korea. They offer various services, including photography and custom jewelry packaging.
Further, their designs are characterized by sleek lines, minimalist aesthetics, and a focus on functionality.
14. Divina Ilusión
Divina Ilusion is a sustainable jewelry brand that creates unique, handcrafted pieces, and the packaging is designed by Javiera Videla who is based in Chile. 
Javiera Videla's sustainable jewelry packaging is both stylish and functional, and it helps to reduce the environmental impact of the brand's products.
15. Ajure Jewelry
Designed by Margarita Branding, a French branding and packaging design studio based in Moscow. Margot's work is characterized by its simple and refined aesthetic, which seeks to highlight the products' natural qualities.
In addition to its sustainable credentials, Margarita is also known for their innovative use of technology, often incorporating augmented reality into its designs.
16. Aurum Bloom 79
The packaging of Aurum Bloom 79 is creatively designed by Halo Creative Studio, a design company based in Poland. Halo's concept is based on the idea that eco-friendly packaging should not sacrifice style or quality.
Halo's mission is to provide its customers with beautiful eco-friendly packaging that does not cost the earth.
17. The Crop
The beautiful and organic-look of packaging credits to design studio Two Times Elliott, founded in 2010, based in East London. They focus on creating simplified yet considered aesthetic.
In addition to their line of jewelry packaging, Two Times Elliott also offers custom design services for industries such as fashion and beauty, property, F&B and more.
18. Zany & Shy
Alexandra Necula is a designer who creates custom jewelry packaging. Their studio is based in Romania and they help sustainable, ethical, and eco-friendly lifestyle brands connect visually with their tribe through strategic, emotional design.
The concept of their designs is to create a unique and sustainable packaging solution that is beautiful and eco-friendly. In addition, organic dyes and finishes are used on their products, it makes them safe for the environment.
19. Atolye Gozde
Designed by Frames Design, a boutique design studio based in Hong Kong, SAR of China. Their designs are simple and elegant, focusing on functionality and sustainable materials. 
They are a team of creative thinkers with multicultural backgrounds and global outlook. They also have passionately and meticulously created works that tell a timeless story for their clients in all scales and capacities.
Key Points:
Eco-friendly jewelry packaging has become increasingly important to us. In addition to the jewelry business expanding globally, so is the packaging industry, which emphasizes eco-friendly and sustainable materials.
To enhance the overall quality of custom jewelry packaging, we have learned the following points:
Packaging is made from sustainable, recycled, and often biodegradable materials.

Jewelry packaging is made from recycled materials and is 100% recyclable.

These packaging use organic dyes and finishes on their products, so they are safe for the environment.

Products are made without using any harmful chemicals or dyes.

Some eco-friendly jewelry brands even use sustainable or recycled materials in their packaging.
In recent years, many jewelry brands have adopted environmentally friendly packaging strategies. However, If you're looking for sustainable, eco-friendly jewelry packaging, this article has all the answers you're looking for.
Moreover, are you looking for more information on a packaging strategy for your jewelry business? 
Recommended articles
5 Topics About Brand Identity
If you're interested to read more articles about unique brand identity and packaging design curated by ParoPop team, here are 5 topics we think you'll love!
Content by,
ParoPop Team