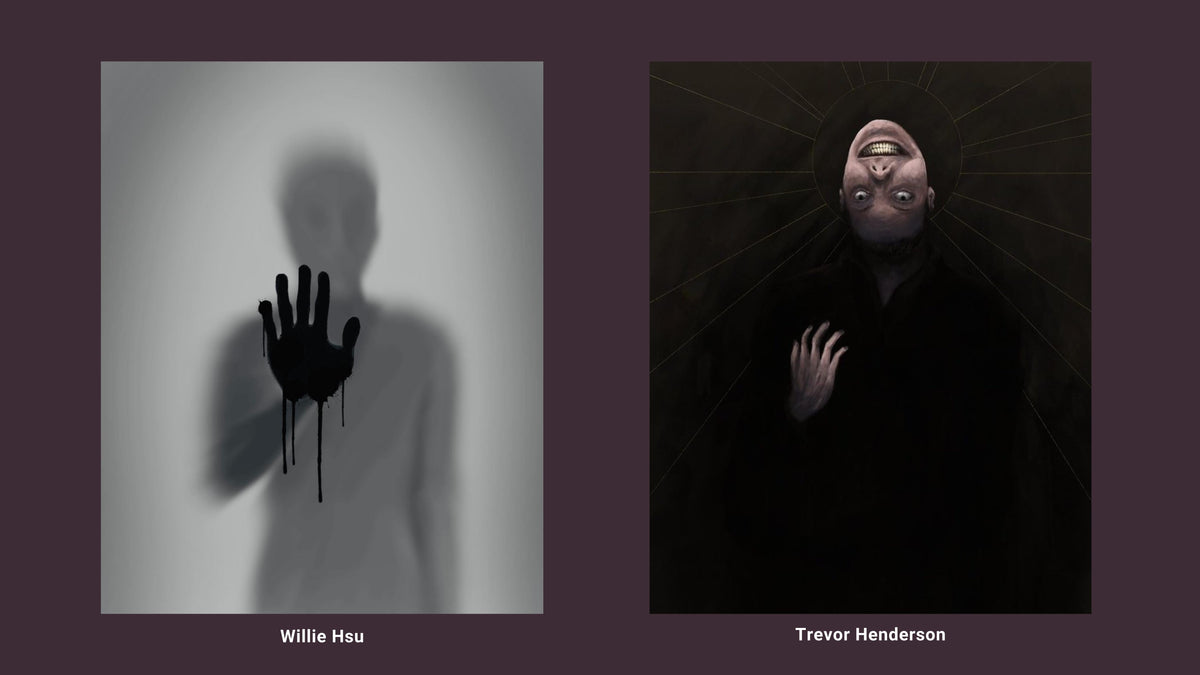 The definition of dark surreal art is the combination of different elements that create a sense of horror, fear, and other negative feelings in the viewers. It may include abstract images or sculptures of body parts or bones. The overall theme of this type of art is usually grotesque and disturbing. Still, some artists also use it to express their deepest feelings or share their opinions on specific issues while simultaneously making people think about them.
The history behind dark surrealism artists back to the 19th century when several French painters started experimenting with combining different styles to create something unique (for example, painting on top of photographs).
Since then, many other artists have adopted this technique by adding more elements, such as skulls, insects, etc. Today there are many different types within this genre, including hyperrealism which often combines photography with traditional media such as oil paints.
What is Dark Surreal Art?
Dark surrealism is a genre of art that combines surrealism with horror elements. The result is dark and macabre, visually stunning works that satisfy even the most discerning art enthusiast.
The name "dark surrealism" was coined by German artist Hans Bellmer, who was inspired by the work of Czech artist Zdenek Burian. Unlike classic Surrealist artists like Salvador Dalí or Rene Magritte—who used their artwork to explore dreamlike states or psychological experiences—the subjects in dark surreal art are often grotesque, disturbing, and violent; they often depict violence against women in particular (often sexualized). Dark surrealism artists like Bellmer have been criticized for focusing on gendered violence; some argue that he was misogynistic for exploring rape fantasies through his dark surreal paintings.
Characteristics of Dark Surreal Art
Dark surreal art is a type of art uses horror and dark fantasy as the theme, it often includes death, decay, illness, and other gruesome subjects. These works are created because they disturb the mind so much that it becomes an addiction for some artists. Often these pieces will also have an element of humor in them – not enough for viewers to laugh but just enough so they don't feel too scared by what they're seeing on the canvas or paper (or computer screen).
There are many dark surrealism artists out there who specialize in dark surreal art. Still, finding someone whose work resonates with you is essential before committing yourself fully to collecting their pieces or commissioning them directly.
Some of the essential characteristics of dark surreal art are:
Having visuals that are gloomy, unsettling, and scary
Involvements with creepy monster art or other unexplainable beings are common.
The paintings' gloomy tones and disturbing subject matter likely make spectators uneasy, if not downright frightened.
A standard method for delving into the most sinister aspects of the human condition, such as our deepest, darkest dreads and worries
They force us to examine our ideas and worldview because they are tricky.
Expressing one's deepest, darkest feelings and ideas via art is a powerful act.
Why Do People Enjoy Horror-Themed Art and Films?
There are a lot of reasons why people enjoy horror-themed art and films. It's fun to be scared, but we get it: sometimes you want to know that you're safe so you can have some fun being scared. Therefore, When you're trapped in a movie theater or at home alone, nothing stops the monsters from coming after you (except maybe your popcorn). But when there are other people around who also want to be scared and experience that adrenaline rush with you—that's when things get fun!
How Has Dark Surreal Art Evolved to Date?
Dark surrealism is a form of art that has become more prevalent in recent years. Dark surrealism is often used to express negative emotions. It's no surprise that these images are so popular—they make you look at things differently! It's interesting how different people interpret art differently, too! Some may say it's creepy or upsetting, but others see it as beautiful or inspiring.
9 Talented Dark Surrealism Artists and Their Works
1. Vincent Lefevre
Vincent is one of the dark surrealism artists from France. The art direction of his work is a combination of street art and digital art. He uses a variety of styles to create his works and uses different materials such as wood, metal, canvas, and even paper. His work is similar to that of Banksy, Shepard Fairey, and Ron English. His dark surreal paintings are often filled with intense emotions like joy or sadness, grief, and loss, making them very relatable. He describes himself as a curious person who loves traveling and meeting new people but also doing things by himself like writing music or cooking food for friends at home.
Therefore, Vincent Lefevre creates timeless art because it reflects the human condition and our emotions but is still modern because it doesn't follow other artists' trends or styles within the same painting genre. He is selling digital dark surreal paintings on his website.
2. Adso Piñerúa
Adso Piñerúa is a fine art photographer based in Buenos Aires, Argentina. He creates art that combines traditional techniques with digital media, including photography and video, often in series. His art direction is about finding beauty in everyday life.
He likes to show different objects and places in another way than they are usually seen. The connection between humanity and the natural world is a central theme in his work.
His works often feature individuals in their natural environments or represent interactions between humans and animals. He has a website and uses NFT to sell his artworks on Opensea and Foundation.
3. Alex Konstad
Alex Konstad is a great dark surrealist artist who has already made a name for himself. He currently lives in Los Angeles. He has been dark surrealism artist since childhood and became interested in surrealism after seeing Salvador Dali's work.
Alex Konstad is known for his unique use of colour, which makes him stand out from other artists of this genre. Blizzard Entertainment, ShieldBreak Games, Reelfx, Psyop FX, Games Workshop, SpinMaster Toys, and Sony Online Entertainment are just a few customers he has worked with. Alex Konstad's artworks are extremely dark and surreal, he is a great dark surrealism artist with a promising future.
He is well known for his use of colour and texture, especially in his dark surreal paintings. He sells his work through his website and on NFT. Alex's work is highly detailed and meticulously paint, showcasing the artist's talent and skill as an artist. 
4. Summer Wagner
American photographer Summer Wagner hails from the Midwest's "rustbelt" area. Her work explores the psychological and spiritual underpinnings of daily life and the hazy poetry that serves as the collective dreamscape of our civilization.
Her art direction is centered around themes such as  The connection between human beings and nature. Therefore, The nature of selfhood and identity in a world where it is so easy to lose yourself in social media, technology, and other distractions.
Wagner's art direction focuses on what she calls "the uncanny." In her own words: "I'm interested in how we all live in a state of perpetual anxiety about what is happening to us and around us—from climate change to mass shootings to political upheaval." Her art direction explores themes of identity, belonging, and spirituality through the lens of surrealism. The dark surrealism artist showcases her art on NFT platform Foundation.
5. William Hsu
William Hsu, an artist, residing in Auckland, earned his Bachelor of Visual Arts from AUT in 2001. He has shown his work in several modern project spaces around New Zealand.
Hsu recently participated in the acclaimed Stazione Di Topolo residence program in Italy. A Center for art in Auckland displayed his most recent piece. Therefore, Willie Hsu draws haunting portraits of humans and animals that give the impression that they are imprisone behind frosted glass.
Every unsettling shadow design uses deft shading to give the figures a three-dimensional appearance as if they were reaching out from the edge of the page toward the observer. The dark surrealism artist often depicts human and animal hands and paws that seem to be resting on glass, with a ghostly outline of the rest of the body lingering in the backdrop. He sells his artwork on his website.
6. Stefan Koidl
Stefan Koidl is one of my favorite dark surrealism artists and he is an independent illustrator and concept artist from Austria, is well-known for his unsettling and upsetting works.
His lifelong hobby of drawing has been with him from his earliest years till now. He produces his results with this enthusiasm, paying close attention to color and detail. His art direction is about disturbing the viewer—making people uncomfortable with their thoughts, feelings, and perceptions of reality.
His work depicts graphic violence and death; it's not for everyone.
Stefan's art direction is based on surrealism. The surrealism does not represent reality but rather an altered version. He uses this technique to make us uncomfortable with what we see, so we question its validity. He sells his artwork on Redbubble and NFT site.
7. Jocelin Carmes
Jocelin Carmes, a freelance illustrator and concept artist, was born in France in 1995.
He is famous for his unsettling and upsetting paintings. He has been drawing ever since he was a little kid. Carmes' art direction focuses on dark surrealism paintings that use elements of fantasy and imagination.
His dark surreal art is often distorted, and disturbing—though it can also be beautiful. In his work, Carmes explores the relationship between humans and nature and the impact of technology on society. Therefore, Carmes sells his artwork on INPRNT and he does also sell NFTs on SuperRare.
8. Trevor Henderson
A native of the United States, Trevor Henderson entered the world on April 11, 1986. Henderson has loved scary stories and creepy monster art since he was a little kid. Henderson was first exposed to scary movies by his father, who is a fan of the genre. He has two very encouraging parents.
Although Henderson does not write, he typically includes a caption with each portrait he shares online. However, Siren Head, Henderson's most famous creation, was born in 2018. He didn't plan on being famous till the year 2020.
In 2018, video game company Modus Interactive made a game called Siren Head in which the player searches for a lost hiker in the woods. He sells his artwork on his website.
9. Noddegamra
Noddegamra is a dark surrealism artist, based in the UK. His surrealism style is  characterized by fantastic imagery and distortion of the human form. Moreover, He sells his art on his website and Instagram. 
Prints and originals are being sold for different prices depending on the size of the canvas and paper used to create them.
On Instagram, he sells photos for $15-30 USD, depending on the size and color quality of the pattern.
Thus,
As we have seen, the dark surrealism artists have very unique genre of their own. It's not just about creating beautiful images with a dark theme but also about exploring the darker side of human nature. The artists who practice their dark surreal art form are passionate about it because they want to show us that beauty can be found in even the most gruesome places.
Many creative expressions are focused on a particular style, but others aren't so easily categorize. There is a type of art called surrealism around since the 1920s when artists first created it. Therefore, This genre can be described as an "art movement whose primary goal was to evoke strange new sensations, moods, and ideas through imagery to make viewers question their sense of reality.
Are you a fan of horror movie and dark surreal art? Do you know any other dark surrealism artists that you like? Let us know and share your thoughts with us in the comment section!
Related FAQs:
What are the two types of surrealism?
Surrealism can separate primarily into two categories: veristic art and automatism art.
What is dystopian surrealism?
The surrealist movement of the twentieth century advocated for the complete emancipation of the unconscious. Together, they provide the basis for Beksinski's dystopian surrealism. It's the kind of atmosphere that only exists in nightmares: a mix of horrific imagery, terror, death, dread, and decay.
What is levitation is surrealism?
Through levitation, an impractical item may fool the eye into believing it is floating or flying. Floating guys are a good illustration of this point. The laws of physics don't seem to apply to them.
What is the scale in surrealism?
To put anything into perspective, we use a concept called "scale" to describe the relative sizes of two things.
Is surrealism still utilize today?
The popularity of surrealist art throughout the world has only increased in recent years. Artists find surrealism an open door to express their unique visions because it allows them more latitude in putting their inner lives on display.
Relatable Topics
4 Topics About Artists We Love
If you're interested to read more articles about talented artists that ParoPop loves, here are 4 suggestions we think you'll love!
Content by,
ParoPop Team