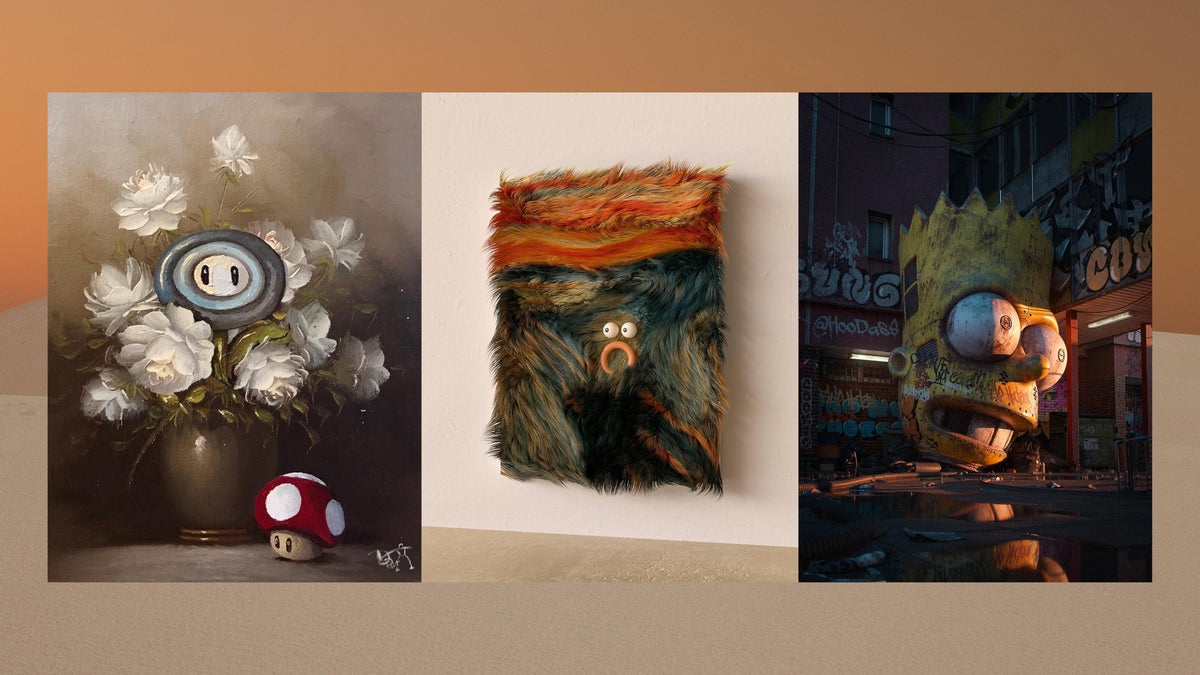 We've all been there, mentally creating our own reimagined art, when you see an old painting or photograph and can't help but reimagine it with a new twist. The viral Mona Lisa is wearing a pair of hipster glasses and sipping on a latte, not a news, it has been on the internet's every corner. Perhaps the American Gothic couple is actually holding iPhones, or George Washington is shown crossing the Delaware River on a surfboard.
Some paintings are so iconic that they have been reimagined time and time again. But what exactly is reimagined art? And where did it all start? Read on as we explore the fascinating world of twisted art, from its history to some of the best artists working in the genre today.
What is Reimagined Art?
Reimagined art is a type of art that takes older pieces and breathes new life into them by giving them a new perspective. This can be done by twisting the original image or painting so that it looks completely different or by adding new elements to it that change the overall meaning.
It can be a great way to explore old pieces in a whole new way and to see them in a new light. It can also be a fun way to create your own artwork by using old images or paintings as a starting point.
There are many different ways to reimagine art, and no two reimagined pieces will ever be exactly the same. It's a great way to express your creativity and create something uniquely your own.
Think of twisted perspective art as a way to take an existing piece of art and make it your own. It's a way to put your own spin on something and create something new from something old.
It can be anything from a simple twist on an existing image to a complete reimagination of an older piece with brand new elements. It's up to you how you want to reimagine art, and there are no wrong ways to do it.
A Brief History of Reimagined Art
This type of art has been around for centuries and has been used by many different cultures as a way to reimagine their own art.
One of the earliest examples of reimagined art comes from the ancient Egyptian culture. The Egyptians were known for taking existing pieces of art and adding their own unique spin to them. One famous example is the Sphinx, which was originally a statue of a lion with the head of a human. Over time, the statue was reimagined, and the head of the Sphinx was replaced with that of a Pharaoh.
This type of art continued to be popular throughout history and has been used by many different cultures. In the 18th century, twisted perspective art became popular in Europe as a way to poke fun at the aristocracy. Many famous paintings from this time period were reimagined to show the wealthy in a less than flattering light.
In the 19th and 20th centuries, it became more popular as a way of political commentary. Artists would reimagine famous paintings or images to make a statement about current events. This type of art is still popular today and is used by many artists to express their views on the world around them.
Some of the most famous examples of art with a twist come from the 20th century. One of the most well-known examples is the reimagined version of the Mona Lisa that was created by Andy Warhol. In this reimagined piece, Warhol took the famous painting and created a new version of it that was brightly colored and had a pop art feel to it.
Today, reimagined art is more popular than ever. There are many different artists who specialize in this type of art, and there are endless possibilities when it comes to reimagining old pieces.
How Reimagined Art Breathes New Life into Old Pieces
If there's one thing vintage lovers know, it's that old pieces can sometimes need a little bit of love to bring them back to life. Reimagined art is a great way to do this and give old pieces a new lease on life.
The art reimagined concept can breathe new life into old pieces in many different ways. For one, it can add a new level of interest and intrigue. While some old art pieces had a very deep and meaningful message, the actual artwork itself can sometimes be a bit dull.
Reimagined art can also add a new level of beauty to old pieces. Many reimagined pieces are more colorful and vibrant than the originals and can really brighten up a room. They can also be a great conversation starter, as they often provoke thought and discussion.
Thus, twisted perspective art can simply make old pieces more fun. If you're bored with an old piece of art, reimagining it can be a great way to add some excitement back into it. It's a great way to add your own personal touch to something and to really make it your own.
The Humorous Artists Who Create Reimagined Art
Now that you know a bit more about reimagined art, you may be wondering who the best artists are who create this type of art. Here are some of our favorite contemporary artists with their amusing works:
1. 
Dave Pollot
Dave Pollot is a New York-based contemporary artist who specializes in taking classical paintings and adding a new, funny twist to them. His reimagined pieces often feature pop culture references and humorous scenes.
Pollot's reimagined art has been featured in many different publications, including BuzzFeed and Business Insider. He also counts SONY, McDonald's, and Instagram among his many clients.
Pollot sells original paintings as well as NFTs on his website. One thing you'll notice about his artworks is that they are all classical with vintage feel to it, with a twist of modern characters or objects that you see in the modern world. 
2. 
Muartive
The use of AI and computer-generated imagery has allowed for some truly reimagined art. Murat Yıldırım, or Muartive, is a Turkish artist who specializes in creating his amusing twisted art using these tools.
Martine's art often features the geographical features of different countries, but with a twist. In his Greenland Dream collection, for example, Muartive randomly places a setup on different icebergs to create a whimsical and dreamlike scene.
Muartive showcases his his amusing contemporary art on his website and sells them as NFTs and regularly releases new collections. Various international curators and contemporary art organizers have featured his work.
3. 
Robin Yayla
Robin Yayla's artwork might just be one of the most creative reimagined art out there. Yayla, who is based in Turkey, reimagines everyday objects in a way that will make you see them in a whole new light.
Be it turning Ponte Vecchio into the table for The Last Supper or the Heydar Aliyev Centre into Marilyn's flying skirt, Robin Yayla's creatively twisted art is guaranteed to make you see the world around you in a new way, you can see most of his amusing works on his website and Instagram.
Yayla sells his artwork as NFTs and has exhibited his work in various galleries and museums around the world. In addition, 9GAG featured his works and being shared all over the internet recently.
4. 
Artem Pozdniakov
Artem Pozdniakov is a Russian contemporary artist who has gained a following for his reimagined versions of classic paintings. Pozdniakov's reimagined art often features modern celebrities and pop culture references.
Pozdniakov has exhibited his art in various galleries in Russia and has also sold his artwork to private collectors. Girl with a Pearl Earring? Add a sheet mask on her face and a phone with TikTok open, and you've got Artem Pozdniakov's reimagined version.
Pozdniakov showcases his artworks on his website and Instagram, and sells art prints on Society6 as well as NFTs on Rarible.
5. 
Filip Hodas
Featuring mostly landscape art with reimagination, Filip Hodas reimagines scenes from popular movies and TV shows in a post-apocalyptic setting. Hodas, who is based in Prague, Czech Republic, often uses everyday objects to create his reimagined scenes.
With over 650,000 fans on different social media platforms, Filip Hodas is one of the popular contemporary digital artists as well as 3D artists out there. He has exhibited his work in various galleries around the world and has also been featured in many publications, including Bored Panda.
Hodas listed his artworks as NFTs on CryptoArt where you can purchase prints of his digital reimagined art, you will definitely be amazed by the prices of his NFTs being sold!
6. 
Ertan Atay aka Failun Failun Mefailun
Ertan Atay, who is better known by his artist name Failun Failun Mefailun, is a contemporary artist based in Istanbul, Turkey.
Atay's twisted perspective art is mostly pop culture collages in anachronism, neo-dada, and surrealist styles.
Atay's amusing artworks have been featured in many publications, including Bored Panda and Indepest. He also sells his artwork as NFTs and art prints on Etsy.
7. 
Shawn Huckins
Shawn Huckins is an American contemporary artist who is best known for his reimagined versions of classic paintings. His pieces often have a humorous twist to them, and are sure to make you smile.
Huckins' collection Dirty Laundry featured some iconic portrait paintings that he reimagined to show the subjects of the paintings being covered in laundry.
Huckins' reimagined pieces are often witty and thought-provoking and have been featured in many different galleries and publications like Forbes, Huffington Post, The Advocate, and more.
8. 
Jake Parker
As a New York Times Best Selling illustrator, Jake Parker is no stranger to reimagined art. Parker has reimagined many different classic paintings, turning them into delightful illustrations that are sure to please anyone.
Working with major brands like Google, Marvel, and Warner Brothers Animation, Jake Parker is one of the most popular digital contemporary artists out there.
While illustrations are his main medium, Parker has also reimagined famous brands and platforms as bots in a series he calls "Brand Bots."
Parker sells original art, art books, comics, prints, and more on his website.
9. 
Elmo Hood
Elmo Hood is a British contemporary artist who often reimagines classic paintings but removes the face of the subject. His reimagined pieces are often eerie and haunting, leaving you with a feeling that something is not quite right.
However, the pop aspect of Hood's humorous contemporary art is not to be ignored. His reimagined paintings often feature modern celebrities and references, using playing cards to create smart and hilarious puns, giving them fresh twists.
Hood has exhibited his contemporary art in various galleries around the UK and has also been featured in many publications, most notably GQ Magazine. He also sells his art as NFTs on his website.
Wrapping Up
Art is evolving every day, and reimagined art is leading the charge. This type of art is a great way to add new life to old pieces and to really make them your own. With so many different ways to reimagine art, the possibilities are truly endless. So go out there and start reimagining!
Do you know any other humorous artists that you like? Let us know and share your thoughts with us in the comment section!
Relatable Topics
4 Topics About Artists We Love
If you're interested to read more articles about talented artists that ParoPop loves, here are 4 suggestions we think you'll love!
Content by,
ParoPop Team