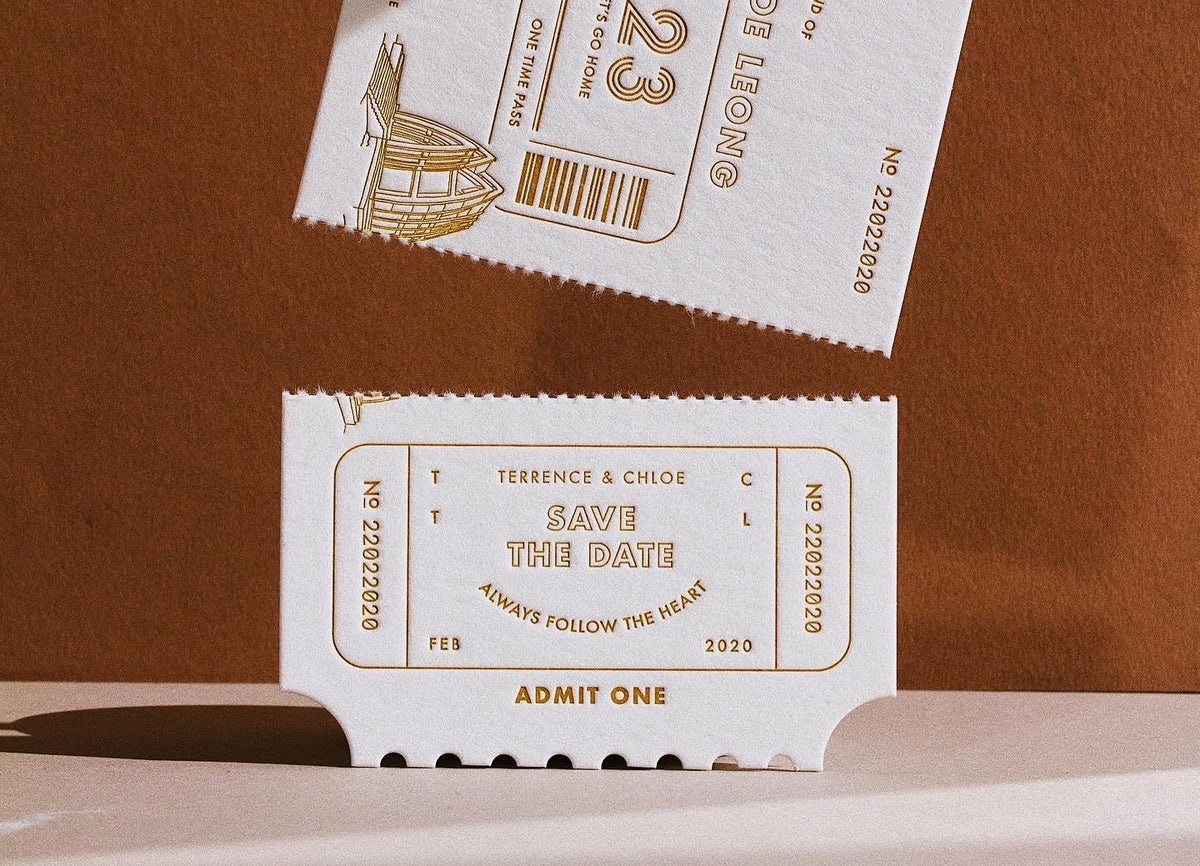 Are you one of those creative people who appreciate letterpress prints? You must be intrigued to know it is one of the most appreciated technique for printing that is specifically famous for its antique printing technique. You may have fantastic letterpress print ideas for your wedding invitation, it is a fact that everyone fell in love quickly with the beauty of the letterpress and it is exciting and fun among the other boring cards and ideas for an invitation.
Now you have landed at the right place to know everything about the letterpress and get some new ideas and inspiration.
What is letterpress?
You may have seen some different and unique cards or ideas for yourself but didn't know what it is exactly? So the letterpress is one of the oldest printing types. It is a simple printing method that demands the hard work of letterpress artists. The card's surface is raised with the letter and then inked and pressed on the printing substrate. It will reproduce the image in reverse and make a unique appearance. In older days, the metal type letterpress was expected, but now other possibilities are available like wood and stone blocks.
A brief history of letterpress
The letterpress artist performs the letterpress prints as the form of relief painting as it has the text or stationary idea raised on the surface that looks like the rubber stamp on the paper. However, if we look at the history of letterpress prints or letterpress artists, it served the nation for more than 500 years. China invented the letterpress in 1401 and then spread to Europe after four centuries.
Keep in mind that the exact invention of tabletop letterpress machines and their equipment is unclear. But most of the old scholars gave the credit for letterpress prints to Johannes Gutenberg in Germany in 1440. However, he invented the adjustable printing molds that make the letterpress print according to requirements. Moreover, it helps to print the whole book even at unprecedented rates.
Later, letterpress printing remained in the printing industry until the 19th century. There are some sites online that have the classic letterpress machines for sale, including tabletop letterpress machines, it allows letterpress artists or enterprises to purchase letterpress machines for hobby or for business.
Why are letterpress prints expensive?
One of the most asked questions is why letterpress printing is more expensive than all others? So here are some primary reasons that make letterpress prints expensive.
It is an extensive labor process for letterpress artists to make the letterpress prints
It includes the manual feeding of every sheet in the machine
It requires the unique papers to make the attractive letterpress prints
The whole process requires the special machines and equipment
It requires a separate plate for each color
It is a time-consuming process for the letterpress artists
Besides these reasons for expensive letterpress prints and creativity, it is still a price-worthy process. It will give life to your design and idea mind. You need to represent your idea in front of a letterpress artist, and they will make it a reality on paper through hard work and creativity.
Stories of 8 letterpress artists and their stunning letterpress prints you must know of
The Alphabet Press aka TAP
The founders of The Alphabet Press are Zeejay Wong, Cliff Leong Kok Kit, Fidella Ch'ng Pei Feng, and Helios Hoe Tiang. They found the press technique to restore and preserve the traditional painting and letterpress designs, although they faced various challenges in starting letter press business, but it was a worthy choice.
Before starting the The Alphabet Press, all the founders belonged to different fields. However, they collectively started a website designing company to make unique business cards.
Initially, they make the designs through their stationery to make an excellent first impression. However, during the journey, they find themselves lack of both resources and knowledge. So they went to Melbourne for the major purpose of learning the letterpress, which caused by chance and much curiosity.
In the beginning, The Alphabet Press's biggest challenge was to preserve the heritage with limited resources. Moreover, introductions of letterpress prints in modern design are also challenging.
Hungry Workshop
The Hungry Workshop is one of the unique studios for letterpress prints, one of our top picks for letterpress artists. It belonged to Melbourne, Australia, and was co-founded by Jenna and Simon Hipgrave.
Initially, we make tangible products or souvenirs with the collaboration of designers. But we foster the creativity to bring fantastic end products.
The journey of their letterpress prints started in 2010 in Caboolture with the collaboration of two retired printers. They teach the letterpress knowledge related to trade and printing.
The Hungry Workshop specializes in letterpress printing, embossing, foil stamping, and die-cutting. Moreover, they offer business cards, invitation cards, packaging, swing tags, brand collateral, and stationery at our site.
Eggpress
Eggpress is a female-owned letterpress platform. It belongs to Portland, Oregon, and brings the fantastic letterpress designs to analog technique. She believes that letter-writing through the letterpress technique is a way to connect people.
The Eggpress is a small team but can deliver effectively even during pandemics. They launched the new card line and brought all the letterpress artists together by their unique and innovative ideas as well as technique.
It provides a unique foundation for diversified greeting cards. The primary intention of Eggpress is to make sustainable cards for the paper industry and secure the environment. Now you can get your greeting cards from Eggpress and send them to your friends or family.
Paper Meets Press
Paper Meets Press is a letterpress printing outlet in Glenside, Pennsylvania. They served with customized letterpress printing ideas for years and effectively used the ink/foil relationship. 
They design and produce various of letterpress products such invitation, stationery, announcements, and business cards. The letterpress artists in Paper Meets Press bring the actual craft in their work to attract the customers to admire the natural beauty of letterpress prints.
You can get customized designs and ideas through letterpress printing, foil stamping, embossing, edge printing, duplexing, and die-cutting. The talented letterpress artists will bring your vision and lead it to the final version through all the required cutting and trimming.
The Weekend Press
The Weekend Press is a collaborative project with Oakland Illustrated. Jenny Pan and Peter Pham founded The Weekend Press in 2013. They met a brilliant designer in school and started working with their company in San Francisco. Collectively, they bring new life to traditional letterpress prints. 
They offer custom works and designs according to customers' choice. The custom designs include art prints, home goods, and stationery items. You can get fantastic letterpress prints through brilliant letterpress artists at The Weekend Press.
Gingerly Press
Gingerly Press is one of the famous printmaking studios, especially in letterpress prints and artists. Lindsay Schmittle discovered letterpress printing in old school and took it as a major at university. After gaining enough skills, Lindsay opened the Gingerly Press across Pennsylvania in 2019.
She creates colorful, modern, and sustainable prints through vintage and hand-carved woods. Her letterpress prints are always a fantastic creation with unique inspiration and conscious thoughts. Lindsay or Gingerly Press has the aim to create a positive impact on the printing industry. They used 100 percent recyclable paper for letterpress prints with the collaboration of the National Forest Foundation.
Letterpress De Paris
Letterpress De Paris represents the name of an ancient technique in Paris, as exactly how their letterpress studio was named. They take the initiative to maintain the traditional printing technique.
The Letterpress De Paris comes with all the force to dig in the paper impressions, they create spectacular products for producing soft and thick letterpress prints. They process the printing of letterpress drawings on notebooks and allow the artists to show their art. It includes all types of technical experimentations and artistic abilities of the letterpress artists.
Moreover, the Letterpress De Paris also offers its clients the general know-how of projects to improve customer trust, and they are the primary support for printing collaborations
Sesame Letterpress
The Sesame Letterpress is one of the fantastic design and letterpress printing studios in Brooklyn, New York.
They have pride in professionalism, friendliness, and unusual behavior with their clients. They have served in letterpress printing industry for more than 20 years. It is enough time to make their valuable place in the market. However, they take time to serve some extra miles to the clients, they have all the beneficiaries and unique stationery designs, machines, and equipment to provide the best letterpress prints.
Sesame Letterpress followed the ancient technique popular in the 15th century. They use letterpress printing through inking at a raised surface and hand-fed individual cards in the machine. However, they provide efficient and recyclable letterpress prints that give them an edge. In addition, some of their stationery designs also used the traditional technique of cast iron presses.
Here are the ideas of where you can apply letterpress prints on
Business cards
The quick illustration for a business card is one of the admiring ideas. It includes a one-color card with a one-sided print. Always keep the business cards minimal with letterpress printing ideas for having attractive illustrations.
Invitation cards
An invitation card with the letterpress technique is helpful to invite your friends with love and affection. The invitation card with a minimal appearance in a misleading manner is something that boosts its beauty. Use color combinations according to your event.
Baby announcement cards
A baby announcement is a special ceremony for both parents. It is the sweetest card that you can print according to your special baby. It features scans of babies, baby footprints, or handprints to bring a feel to the meaningful invitation card.
Packaging boxes
The packaging boxes with letterpress prints enhance the beauty of the inner product. Now you can print the packaging box of your gift to someone special. The most precious idea for a packaging box is to publish your name on the box and enhance its beauty.
Greeting cards
Greeting cards for your friend or family's success or special event is admirable, and definitely will receive much of appreciation. The letterpress ideas bring living happiness to your card. You can make a simple, minimal, but unique greeting card through a combination of letterpress inks and paper.
Calendars
The enthusiastically-looking calendars for every new year are a fantastic addition to your home and office table. The letterpress prints for calendars have various design options, including the Seaview, birds, and many more.
Wine bottle label
The wine bottle label sticker through letterpress prints make it a perfect for your very own wine label to stand out among the other brands of wine, perfectly acceptable gift and honor for friends.
Coasters
Make fun patterns for your coasters to attract others. There are plenty of fun and color-full ideas that you can select for coasters.
Notebooks
The customized notebook covers for admiring the students to read or write. Get your name or the title of the book pressed on your notebook through the letterpress technique.
Art prints
The art prints through letterpress printing are excellent. You can get the art prints of your favorite character with highlighting dialogue, in retro art direction, it enhances the value of collectibles.
Packaging sleeves
Packaging sleeves with particular messages engraved with the letterpress technique helps deliver your message and note in a very unique way.
Hang tags
Hang tag is a beneficial idea for small or big fashion platforms. Make your hang tag with a simple and light-toned color combination.
Playing cards
The playing cards, vibrant colors, and the right choice of prints are unique. You can emboss the name of your brand on playing cards to develop a solid relationship as a merchandise to promote your brand in a very attractive way.
Postcards
The postcard with different images on the corner is an elegant idea. You can design the local attractions in the print such as of trees, cars, birds or the cultural designs for an extra local themed postcard.
Envelopes
The letterpress print on envelopes is an expressive way to share your gratitude and other feelings through making a great entrance for an invitation or an announcement.
Book covers
The letterpress print for the book cover is a way to make it attractive for the readers to hold and appreciate the embossed hand feel.
Bookmarks
The bookmark with some special encouraging quotes keep you inspired and motivated to continue reading.
Letterpress is more of an art that can intrigue a lot of people especially those who are highly driven by art and creativity.
If you are one of those letterpress enthusiasts, and you do appreciate the art and the antique techniques of how the beautiful letterpress prints are made, it's time for you to take a deeper look on the details of the artists and the ideas listed above to further explore the alluring beauty of it, do it for yourself as a hobby or start a brand for yourself.
How do you think about our picks of letterpress prints and artists? Share your thoughts with us at the comment below!
Relatable Topics
4 Topics About Artists We Love
If you're interested to read more articles about talented artists that ParoPop loves, here are 4 suggestions we think you'll love!
Content by,
ParoPop Team