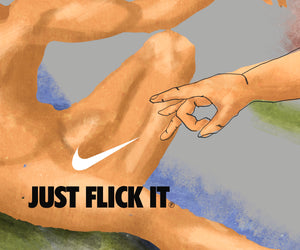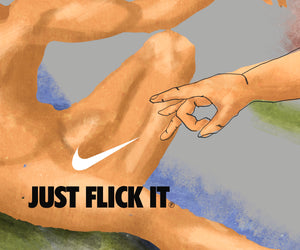 On Sale
Just Flick It
Artwork - Just Flick It

My kind of 'The Creation of Adam'. The legendary mischievous boy's game finds a censorial ally in Nike's iconic logo, crafting a whimsical portrayal. Echoing the ancient myths, it reimagines the act of creation as a lighthearted flicking game, inviting contemplation on the convergence of innocence and truly timeless, pure and simple fun.
Measurement in inches
20" x 24"
Art paper material - Hahnemühle Photo Matt Fibre 200
Photo Matt Fibre 200gsm · 100% α-cellulose · warm white. The smooth, very light textured paper has a pleasant warm tone whiteness.

Low weight cellulose based inkjet paper with 200 gsm
Smooth, very light textured surface
Natural white, warm tone
Matt finish
Acid-free
Printmaking technique - Giclée print
Giclée prints use pigment-based inks that are fade-resistant and produce a broader range of colors. They have the sharpest detail and highest resolution, displaying a full-color spectrum. Giclées capture every shade of original work, offering superior image quality and longevity, which lasts for a lifetime with care.